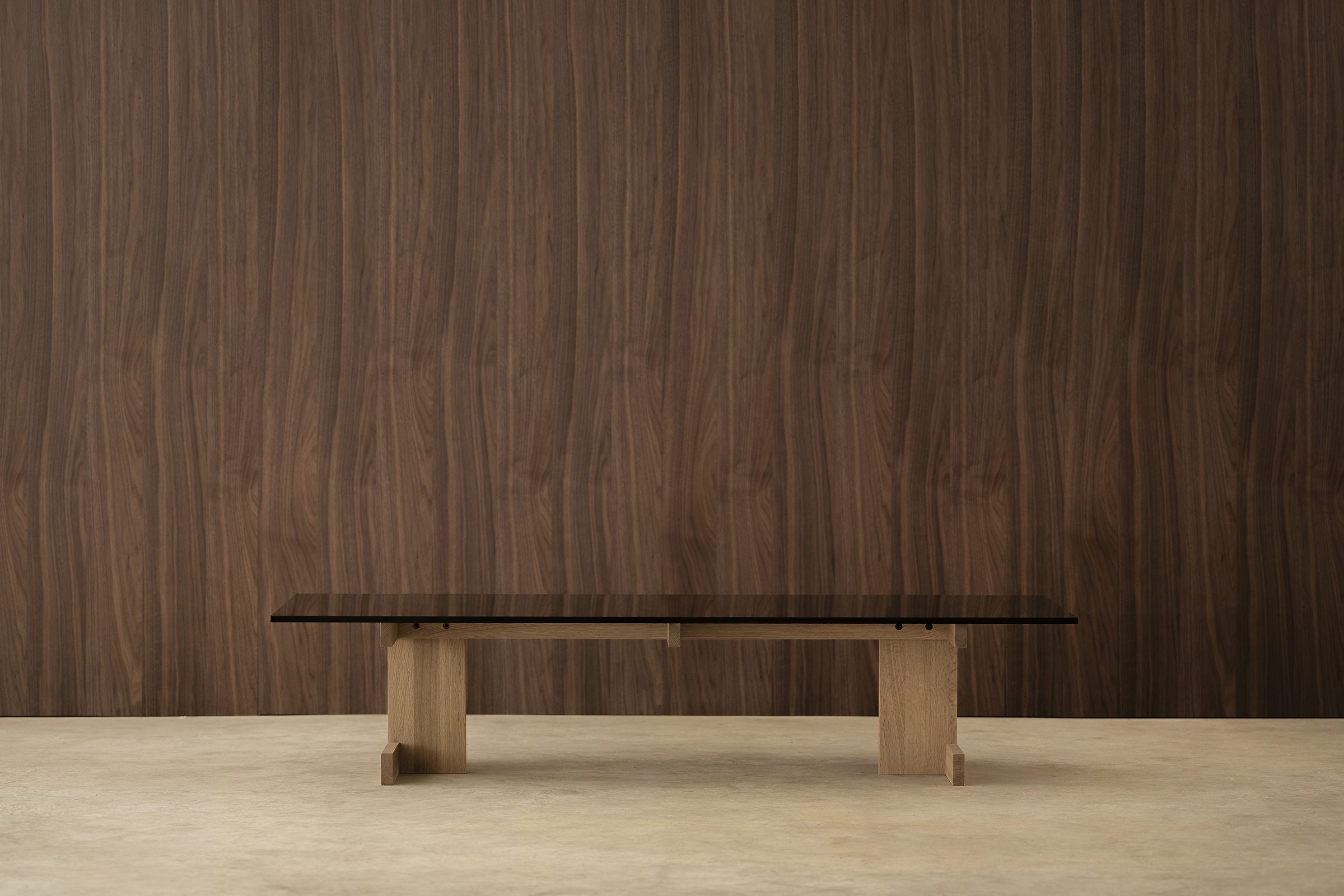 A-CT01 for Karimoku Case Study 
Design: 芦沢啓治
Manufacturer:カリモク
昔から使われている「ちゃぶ台」をインスピレーション源とした、対となるソファの高さに合わせたテーブルです。フロアに座った状態でもアクセスしやすく、審美性だけでなく機能性にもフォーカスしています。素材の質感を生かした、構造的な直線が描く脚を、透明なガラストップが強調します。
ケース・スタディ・プログラム: 砧テラス
カリモクケーススタディは、1940年代の「ケース・スタディ・ハウス」にインスピレーションを得ています。
米国の建築雑誌「アーツ・アンド・アーキテクチュア」がリチャード・ノイトラやチャールズ&レイ・イームズといった著名な建築家に、経済的かつ複製しやすいモデル住宅を依頼したとされるこの実験的プログラムでは、斬新なアイディアにより現代的な住空間とライフスタイルが根本的に再定義されました。
このプログラムでつくられた住空間やプロダクトは今日においてもモダニズムを代表する傑作として知られています。
カリモクケーススタディにおいて最初のプロジェクトとなった砧テラスのために、私たちはソファ(A-S01), ダイニングテーブル(A-DT01) そしてコーヒーテーブル(A-CT01)をデザインしました。
Design: Keiji Ashizawa
Manufacturer: Karimoku
Matching the height of the sofa while referencing the traditional Japanese, short legged chabudai dining table, the sofa table can be utilized while seated on the floor. The transparent glass top highlights the structure of the legs in an honest way, celebrating the material.
CASE STUDY PROGRAM: Kinuta Terrace
Inspired by the Case Study Houses, Karimoku Case Study draws on the visionary works of the architects for the iconic, modernist program.
In the 1940s, Arts & Architecture magazine commissioned young and successful architects, such as Richard Neutra, Charles and Ray Eames, to design inexpensive and easily rep- licable model homes to accommodate the residential housing boom in the US at the time.
Based on new ideas for residential living, the commissioned architects essentially redefined the modern home, and the houses that were built are today considered iconic, modernist masterpieces.
Throw Kinuta Terrace, we designed sofa(A-S01), dining table(A-DT01) and coffee table (A-CT01)
https://www.karimoku-casestudy.com/jp/furniture/kinuta-a-ct01/