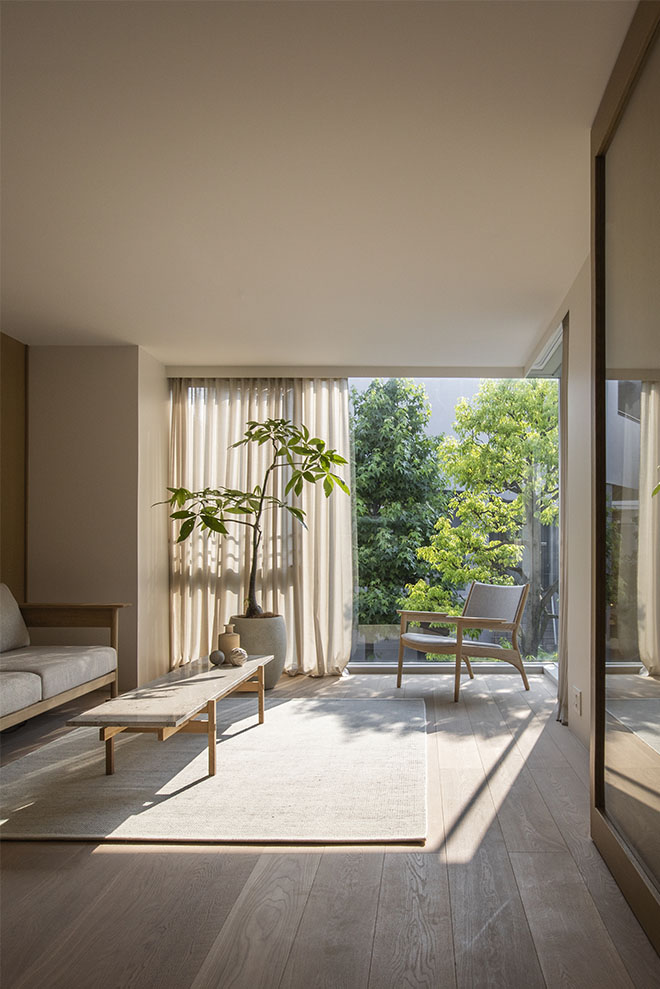 Site: 東京
Architect: 芦沢啓治建築設計事務所+Norm Architects
Project architect: 芦沢啓治 / 平山健太
Design: 芦沢啓治
施工: 株式会社ファインアーツ / 株式会社シミズ・ビルライフケア
家具: karimoku case study
Photo: Jonas Bjerre-Poulsen
東京の閑静な住宅街に位置する砧テラスは、1991年に建てられた36戸のメゾネットで構成された集合住宅であり、100メートルに及ぶガーデンパッセージを有する緑豊かな中庭を特徴とする。本プロジェクトは、リノベーションだけでなく、ランドスケープの刷新、インテリア要素としての家具のデザインも包含する総合プロジェクトである。
 
メゾネットの躯体が持つダイナミズムを活かしリビングに取られた大きな窓からは、中庭の木々の間からこぼれる日の光が差し込み、壁面や床材、ソファの張地のもつ豊かな表情を強調する。コーヒーテーブルのガラストップに映り込む木々の色の変化が、季節の変わり目を知らせ、テーブルや椅子の削ぎ落された線は、スティールと木を使った階段や、梁のライン共にリズムを生み出している。
ランドスケープと室内空間の結びつきにフォーカスした本プロジェクトでは、都市生活者の自然への回帰欲求に応じるよう、内装、ディテールおよび家具の素材を選択し、調和させている。すべての要素を細部に至るまで調整することで、居住空間に周辺の自然をシームレスに引き込み、快適で温かく、インスピレーションに満ちた空間を作り上げた。
Site: Tokyo
Architect: Keiji Ashizawa Design+Norm Architects
Project architect: Keiji Ashizawa / Kenta Hirayama
Furniture: karimoku case study
Photo: Jonas Bjerre-Poulsen
Located in a quiet residential area of Tokyo, Kinuta Terrace is a multiple dwelling house consisting of thirty-six maisonettes constructed in 1991. It features a lush green courtyard with a 100-metre-long garden passage. Kinuta Terrace is not only a renovation project but a comprehensive project including direction for landscape, and the design of interior and furniture.
Sunlight shining through trees in the courtyard comes through from the large window in the living area, where the dynamism of the building gives advantages to the space designs. The light highlights the richness of the upholstery and material of the walls and flooring. On the glass top of the coffee table, the reflection of leaves changing colour heralds the seasons transitions.
By focusing on every element through careful selection of materials and harmonisation of them, this project resonates with people longing to reconnect with nature. Such fine-tuning of every aspect successfully carries the natural references to the living space and creates a comfortable and warm atmosphere filled with inspiration.