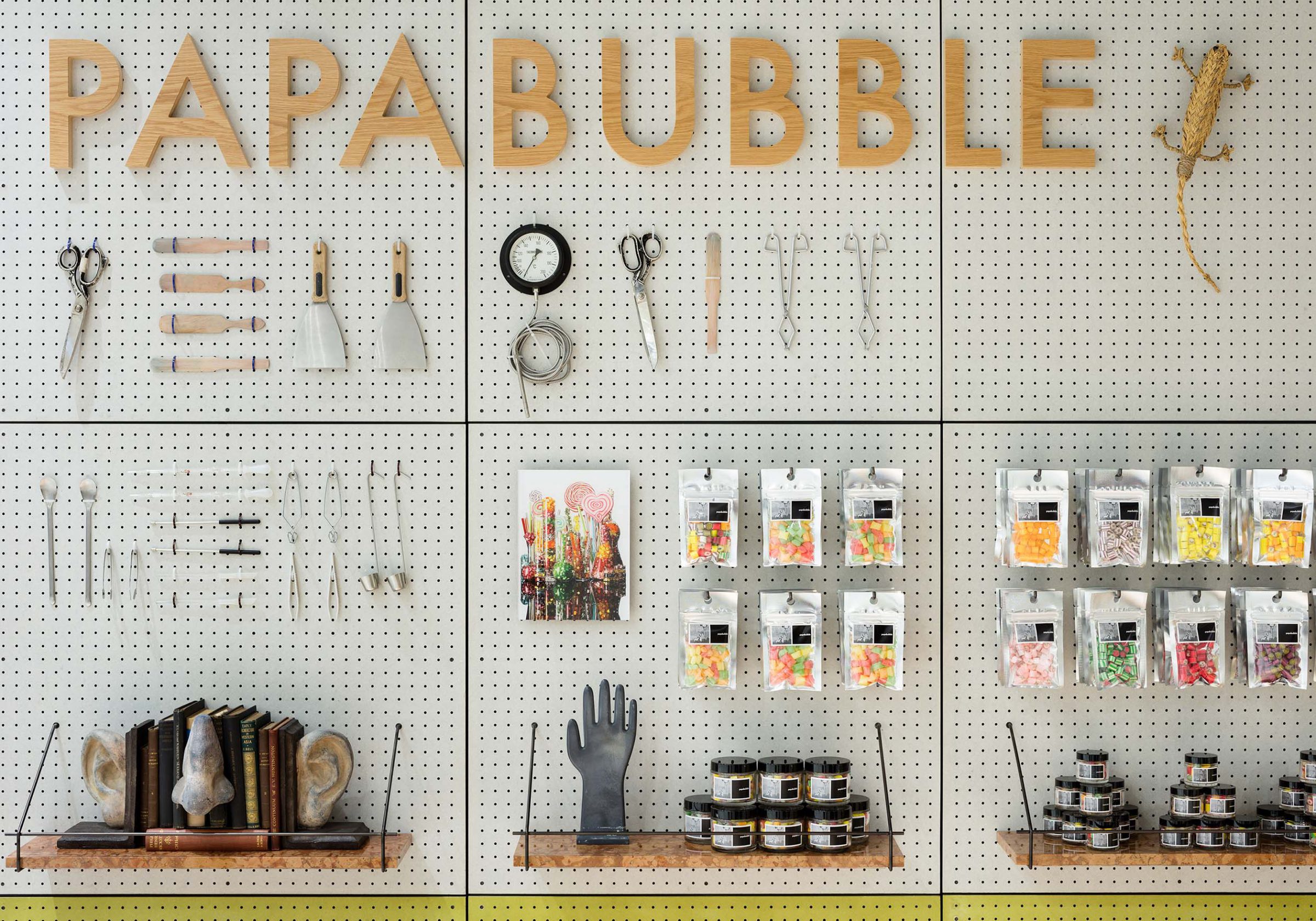 Site: 宮城県仙台市
Architect: 芦沢啓治建築設計事務所
Project architect: 芦沢啓治/ 平山健太
施工: アンドエス
Photo: Takumi Ota
パパブブレは、もともとスペイン・バルセロナから生まれた飴のブランドであるが、日本ではショップデザインも含めて大変ユニークなショップとして有名になり、東京を中心に全国展開しつつある。東北での初出店となる今回の店舗では、周囲の店舗に比べてコンパクトな区画であるが、奥行きがあることを活かし、パパブブレの飴のように小さいながらも遊びのある空間を目指した。
「売場の広さを時期によって変化させたい」という施主側の大胆な発想を基に、什器だけでなく間仕切り壁まで可動式とし、壁も様々なアタッチメントが取り付けられるようコンクリートの有孔板を用いた建具としている。建具の開け閉めや壁のデコレーションのインフラは、ショップが季節ごとに様々なイベントをしていくうえで役に立ち、またユニークなショップ空間をつくり出している。インテリアと家具には、鮮やかな飴とは対照的に無機質な材料を使い、パパブブレの代名詞でもある飴をカットする製作風景や、独特な工房の雰囲気を感じられるような店舗とした。またバックカウンターの壁は鏡張りとし、長い奥行きがさらに長く見えるようにしている。
Site: Sendai Miyagi
Architect: Keiji Ashizawa Design / deLINIUM arquitectes
Project architect: Keiji Ashizawa / Kenta Hirayama / Eduard Mariné Casals/Marta Ruiz Gimenez
Photo: Takumi Ota
Hailing from Barcelona, PAPABUBBLE is an artisanal candy maker that has become well-known in Japan for its retail locations, this is due in no small part to the unique design of the stores.
Beginning in Tokyo, PAPABUBBLE has expanded all across Japan, with this shop being the first to open in the Tohoku region. Although this store is more compact compared to PAPABUBBLE's other premises in Japan, we set out to leverage its depth to create a small space filled with fun - just like PAPABUBBLE's candies.
Working with the client's bold idea of creating a store in which the size of the retail space could be adjusted from time to time, we made the store displays as well as the partition wall movable. Concrete perforated boards are used for the main wall so various knick-knacks can be attached. The infrastructure for this decorative wall and mobile store fixtures enable the staff to transform the space for various events and promotions, reflecting the uniqueness of this shop. Attached to the back counter, the mirror makes the cosy space appear larger and more open. Contrasting with the vivid colours of the PAPABUBBLE candies, we used inorganic materials, such as metal for the interior and furniture, which are intended to evoke the feeling of entering an artisanal candy workshop.