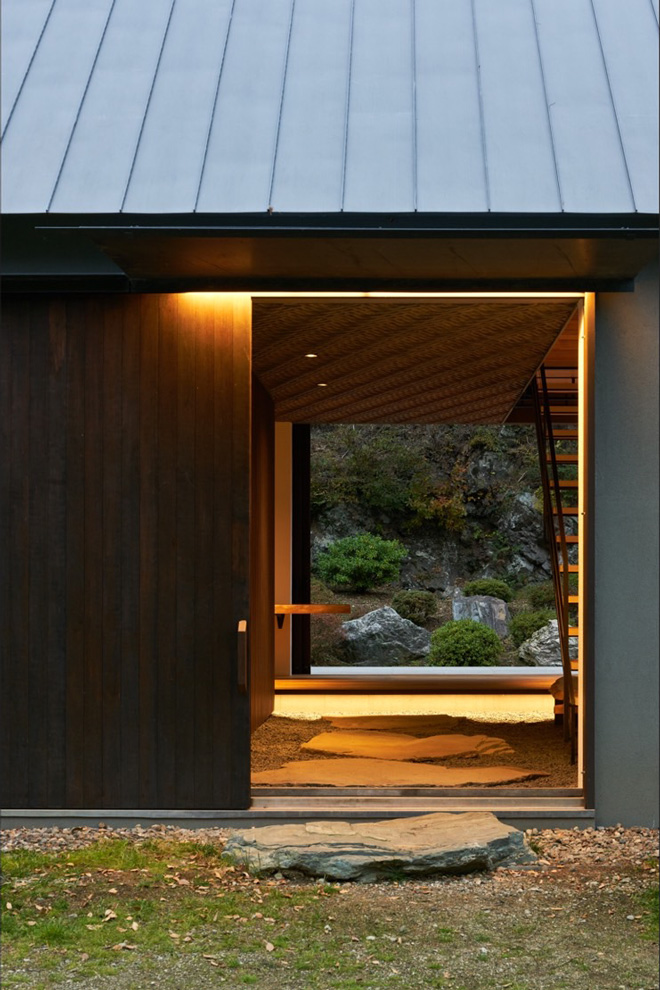 "雄々しい崖に対峙し、美しい富士山を望む。この別荘は、クライアントのおおらかさと、こだわりをそのまま表現したような家だと思う。"
Site: 山梨県
Architect: 芦沢啓治建築設計事務所
Project architect: 芦沢啓治 / 本條理恵
Photo: Daici Ano
自然豊かな富士五湖の一つである西湖の湖畔に、富士山を望む別荘の計画。
 
敷地は豊かな自然に囲まれ、また敷地南側の木々の間からは富士山が見える。クライアントは特に、東側に立ちはだかる崖に生える岩肌と赤松が気に入り、このプロジェクトが始まった。
 
要望は極めてシンプルであった。寝室が一つ。大きなバスルームが一つ。そして皆がくつろげるリビングと、布団をひいて寝られるスペースである。そこでクライアントが所有していた楠の一枚板をリビングの中心に据え、東側に大きな開口部を設け、また雄々しい崖と赤松を愛でつつ庭を作り、リビング空間につなげている。バスルームは南側に据え、富士山を望む開放的な空間とした。ロフトスペースは畳となっており、この別荘に集まる子供の遊び場であると同時に、寛ぐにはちょうどいい大きさの空間となっている。
 
結果、シンプルな空間構成による力強い空間と楠の自由な形状が、東側から見える自然の要素と程よいコントラストが共鳴し、人々の意識を外へと広げ、心地よい緊張感をもたらし、内外の空間を一体化している。
'The house is connected to nature by a large camphor-wood tabletop and faces majestic cliffs and a beautiful view of Mount Fuji.'
Site: Yamanashi Prefecture
Architect: Architect: Keiji Ashizawa Design
Project architect: Project architect: Keiji Ashizawa / Rie Honjo
Structural engineer: ASA Akira Suzuki
Photo: Daici Ano
House in Saiko is a holiday home that overlooks Mount Fuji on the shore of Lake Saiko, one of the Five Fuji Lakes, a two-hour drive from Tokyo.
 
A rich natural environment surrounds the project site, and Mount Fuji is visible from among the trees on the south side of the property. The client was particularly fond of the rock faces and Japanese red pine trees growing on the cliffs that stand to the east of the site; this interest initiated the project.
 
The requirements were simple: one bedroom, one large bathroom and a living room where everyone could relax and sleep on a futon. A single piece of camphor wood, owned by the client, was installed in the centre of the living room. A large opening on the east side of the house and a garden with views of the majestic cliffs and Japanese red pines connect the living room to the exterior. The bathroom, located on the south side of the property, is a liberating space with views of Mount Fuji. The loft space is furnished with tatami mats and is the perfect size for relaxing while acting as a playground for the children who gather in this holiday home.
 
Simple spatial composition results in a powerful setting that shows off the free form of the camphor wood. The natural elements visible from the east and the perfectly balanced contrasts combine, enhancing people's awareness of the outside and creating a pleasant sense of tension that unites interior and exterior spaces.