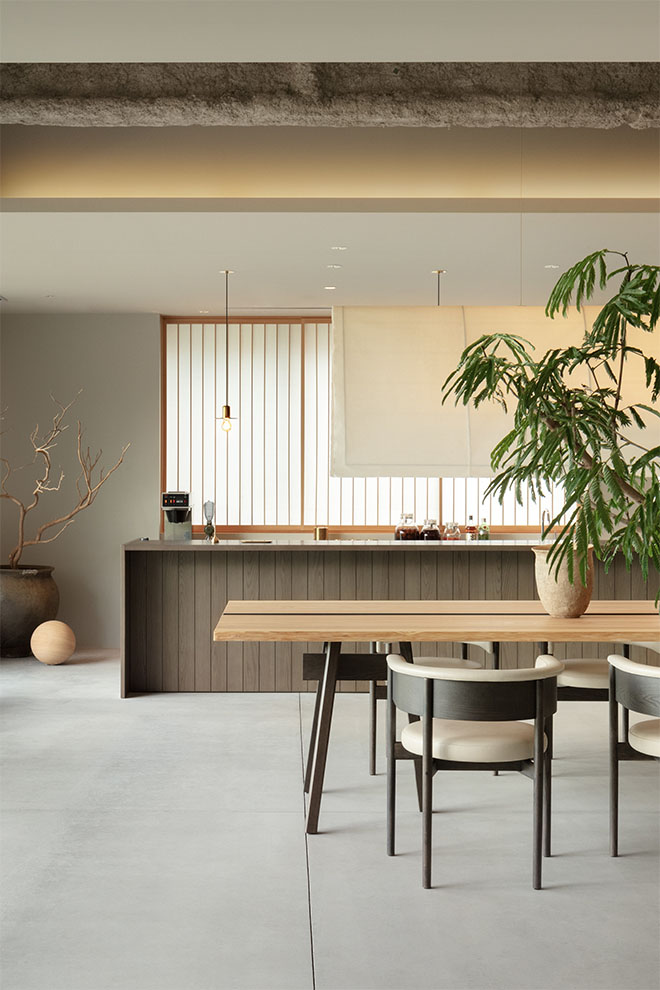 "奈良らしさとは何か、気持ちのいいホテルはどんな空間なのか。設計期間は、その答えを探す旅でもありました。"
'With an emphasis on craft, we incorporated elements sourced from Nara Prefecture into the space as much as possible.'
Site: Nara
Architect: Keiji Ashizawa Design
Project architect: Keiji Ashizawa / Tsubasa Furuichi
Photo: marc and porter / Takumi Ota
MIROKU Nara by THE SHARE HOTELS is located on the banks of the Ara Pond at the southern end of Nara Park, a spectacular location that will surprise even the locals. The hotel overlooks the UNESCO World Heritage-listed five-storey pagoda of Kofukuji and the Mount Kasuga Primeval Forest.
 
For THE SHARE HOTELS' ninth location -lifestyle hotels with the concept of sharing new local attractions- a four-storey building with one basement floor, completed in 1990, was renovated into a hotel. We designed the public space at the entrance, the restaurant, and the guest rooms on the first to fourth floors.
 
The interior elements were carefully curated to allow visitors to experience the charm of Nara in a simple and relaxed environment amidst the grandeur and majesty of the ancient capital. In addition to helping guests feel seamlessly connected to the city during their stay and after sightseeing. For example, a sliding door with a thin vertical lattice is an element that would ordinarily be called a shoji. However, using a conventional shoji screen would look out of place in the existing building. Therefore, we designed the shoji to be made up of vertical lines and without horizontal cleats to coordinate with the existing architecture.
 
The restaurant features lighting fixtures by Nara-based brand NEW LIGHT POTTERY and speakers by listude. The restaurant lobby area boasts a large countertop made of a single piece of Yoshino cedar. Large light fixtures, made from custom-designed Uda washi paper, hang above the restaurant table and create a space where visitors can experience Nara's nature and craftsmanship. Breakfast and CAFE&BAR menus are supervised by popular local cafe, KURUMINOKI, which has been attracting a wide range of visitors for over 35 years. In addition, you can experience food and drinks made from ingredients sourced from Nara Prefecture on the adjoining terrace.
 
We hope you will enjoy Nara in the relaxing atmosphere of our guest rooms, a simple space to take in the magnificent scenery.