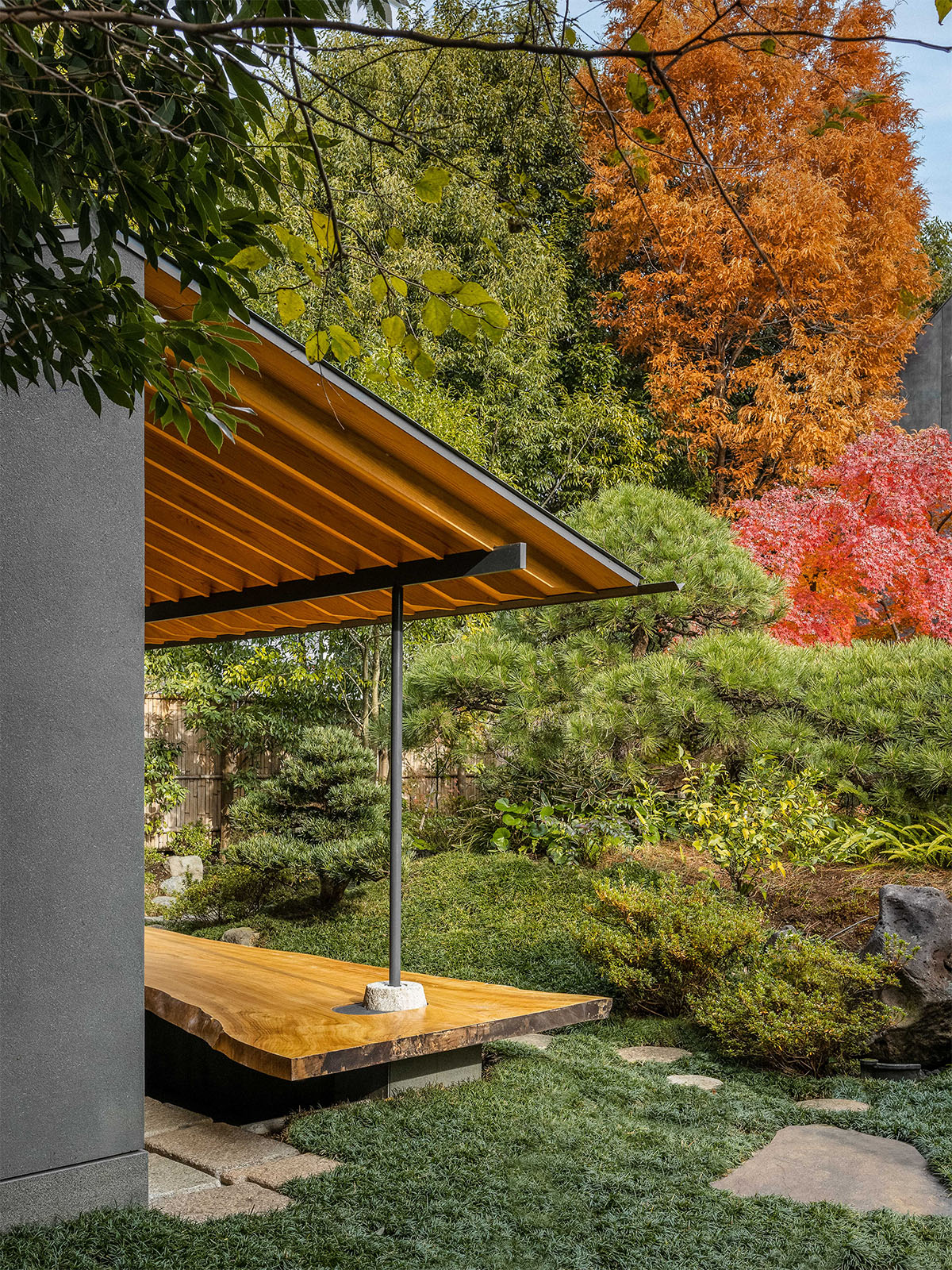 Site: 東京
Architect: 芦沢啓治建築設計事務所
Project architect: 芦沢啓治 / 本條理恵
Structural engineer: ASA 鈴木啓
施工: 松本コーポレーション
Photo: Ben Richards
ガーデンハウスは、House Sの庭に設けられた小さな小屋のようなスペースである。クライアントは庭の改修を終えたあと、庭を違う形で楽しめるスペースとして、できるだけコンパクトな小屋のようなものを作ることを希望していた。
庭を楽しむと同時に庭ごしに主屋を楽しむこともできるように、主屋に対して庭を挟み込むように小屋を配置するという計画から決まった。また、ダイニングとリビングでも使用している、クライアントが一目惚れして購入していた樟の一枚板の天板を計画に組み込むことが決まっていた。主屋からの見え方、小屋からの庭の見え方、そして機能として必要な大きさを検討し、4畳と床の間という最小限のスペースを設け、一枚板天板をベンチ、またはテーブルとするべく掘り炬燵のような形とした。天板を大きく囲う屋根は、軽やかさを演出するために鉄骨柱にし、天板、屋根、そして庭との関係を整えている。また鉄骨柱の足元にはクライアントが京都の実家にて漬物石として使っていた石を基壇として使っている。
出来上がるまで気付かなかったのだが、このガーデンハウスがあることで庭が完成したようである。もちろん庭に完成はない。常に変わり続けるものだと思っているが、この家がもたらしているものは、単なる空間だけではない。庭全体に大きく影響を及ぼしていることは確かである。
Site: Tokyo
Architect: Keiji Ashizawa Design
Garden House is a small hut-like space set up in the garden of House S. After the garden renovation was complete, the client wanted to create a place where the garden could be enjoyed differently, as a kind of hut, as compact as possible.
Following careful consideration of the layout plan, it was decided that the Garden House would be placed behind the main house and garden. As a result, the garden can be enjoyed in tandem with the main house over the garden. We incorporated a piece of camphor wood into the project that the client had fallen in love with and purchased; it is being used for living or dining. We considered the view from the main house, the view of the garden from the Garden House, and the size required for the space to function. A minimal structure of four tatami mats and a 'tokonoma' (Japanese alcove) was built with a single piece of camphor wood, shaped like a sunken kotatsu; used as a bench or tabletop. The large roof covering the camphor-wood tabletop has a steel frame that aligns with the tabletop, the main roof and the garden to create a feeling of lightness. At the base of the steel frame are stones once used by the client for weighing down pickles at his family home in Kyoto.
It was not until we had finished the project that we realised the Garden House seemed to complete the garden. Of course, a garden is never complete. I believe that it is constantly changing and evolving, but what this house has brought about is not just a mere space. It has a significant impact on the garden as a whole.