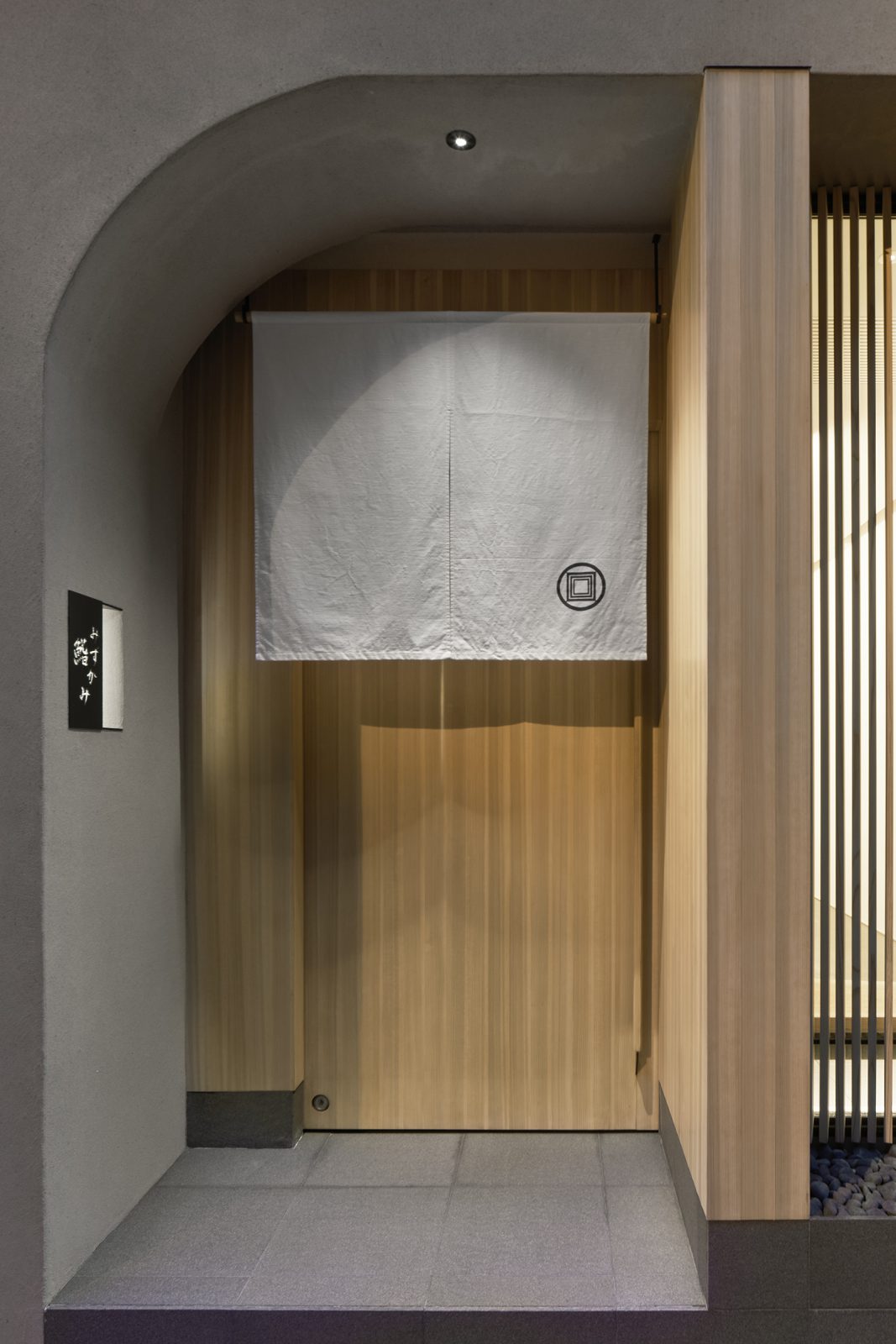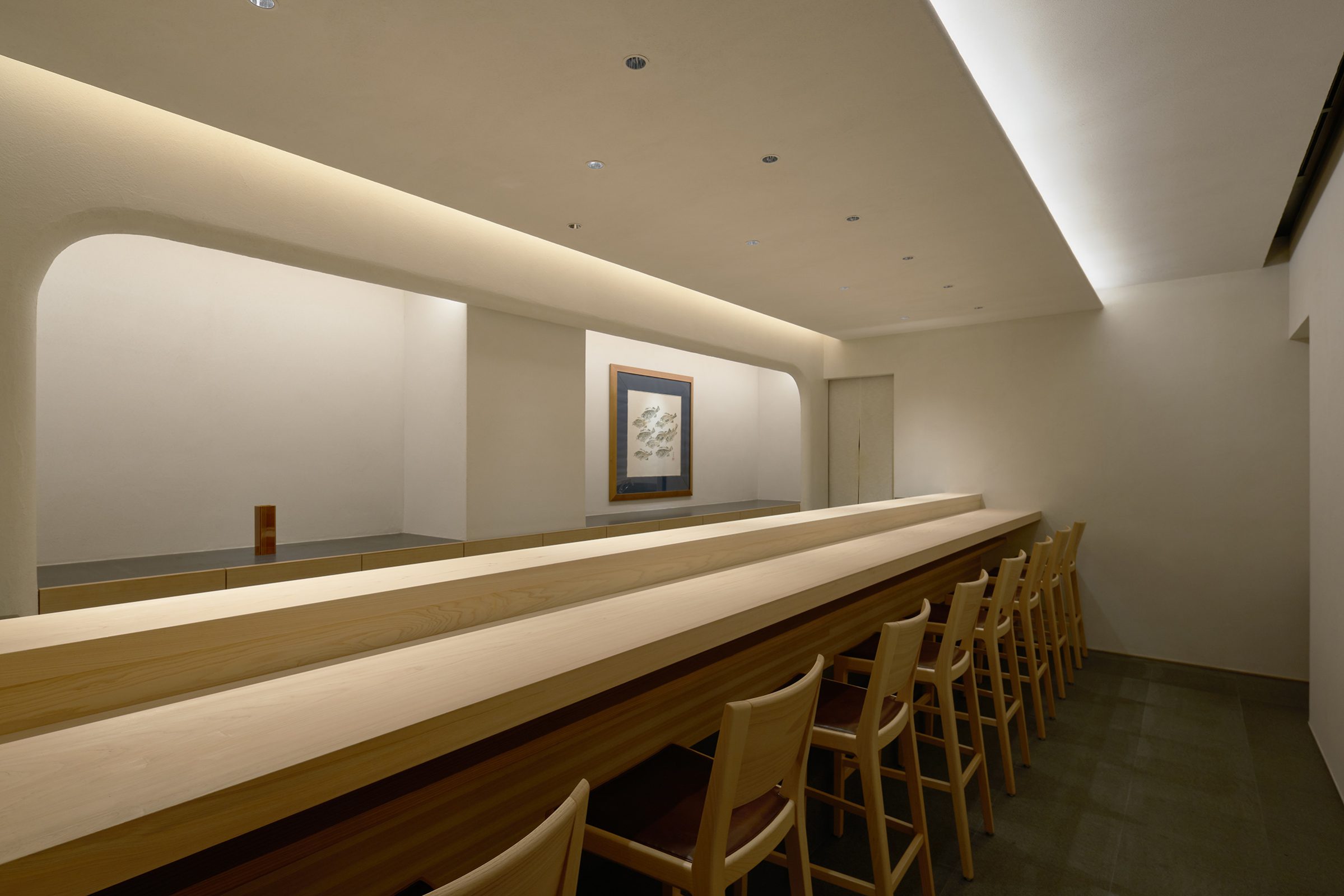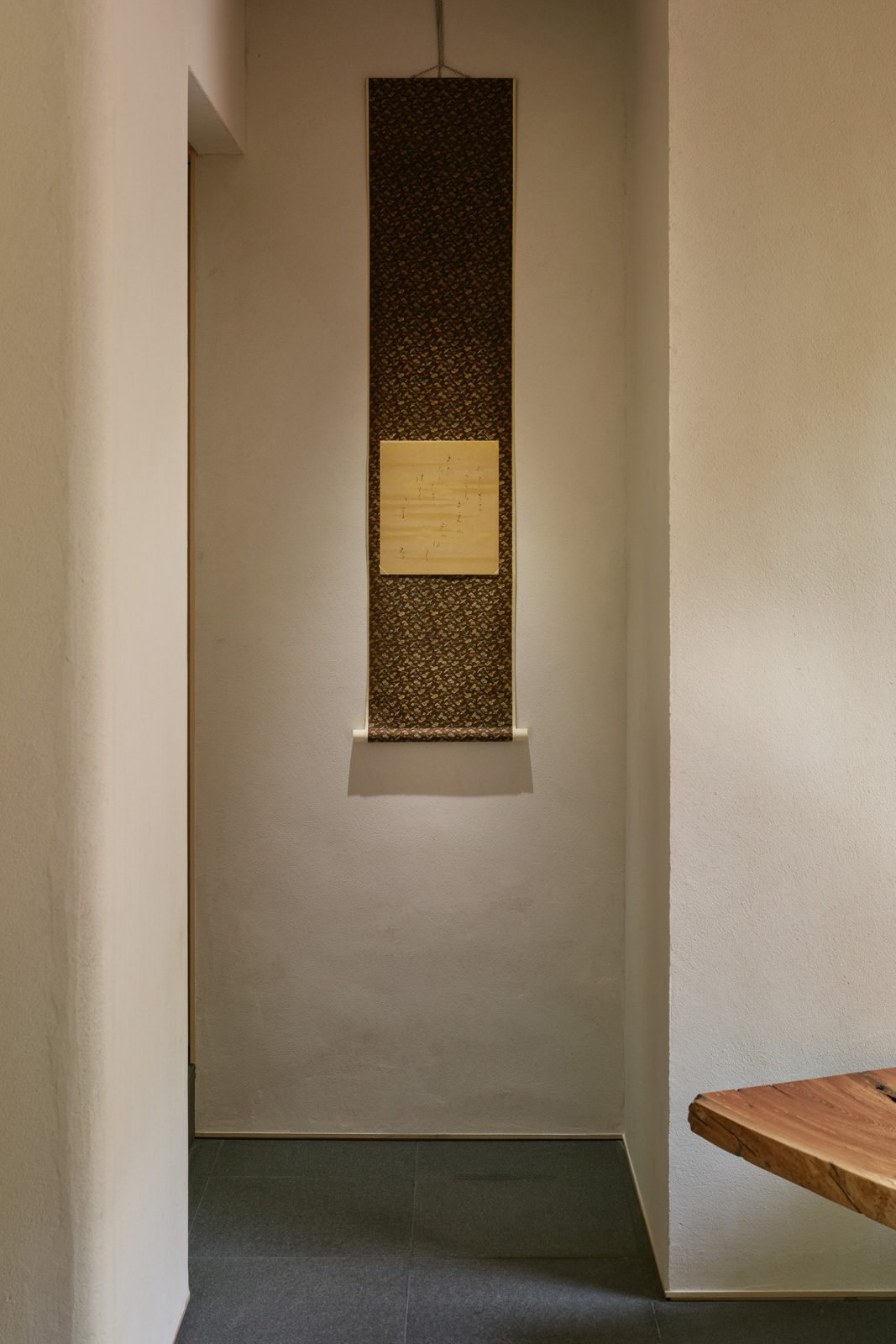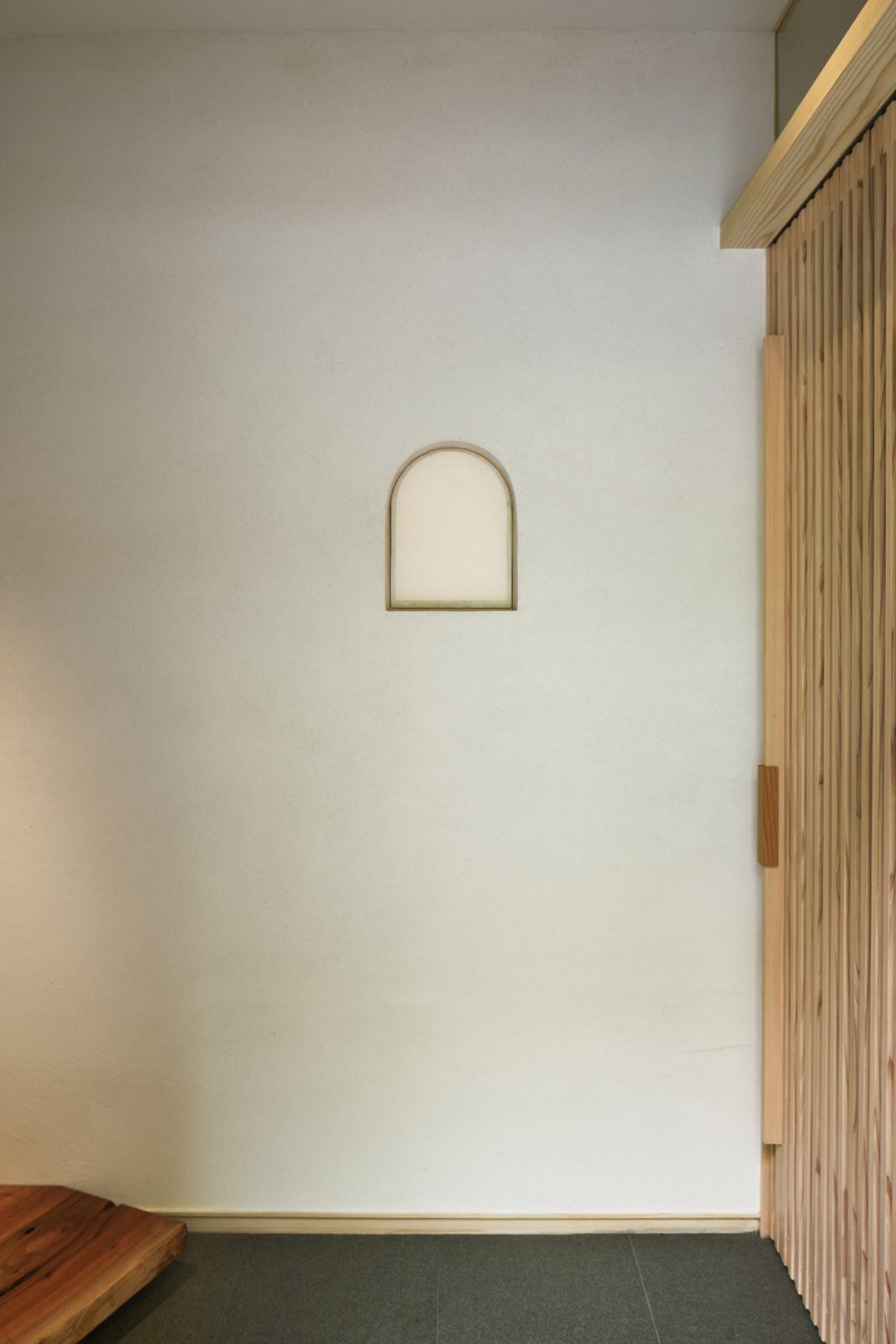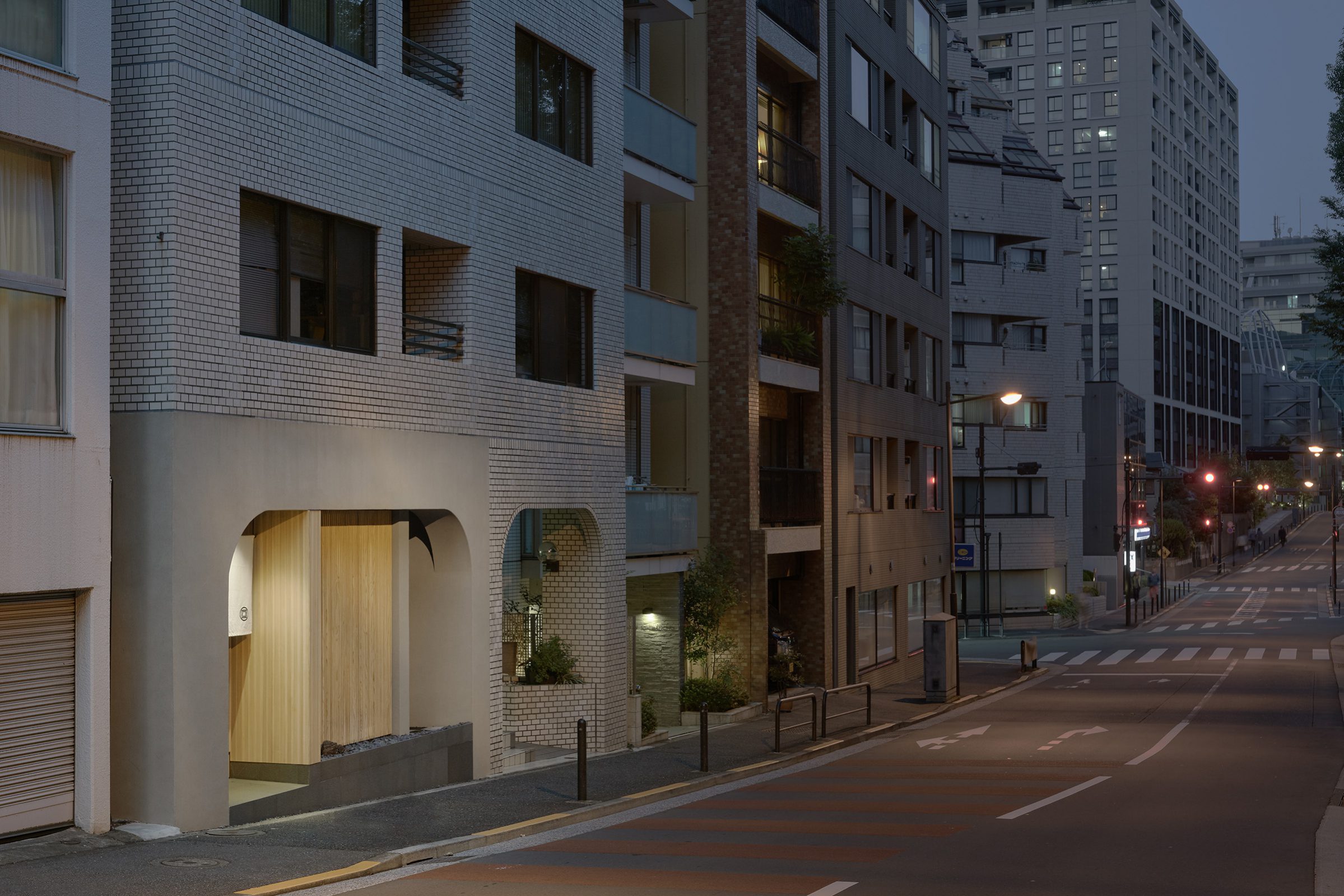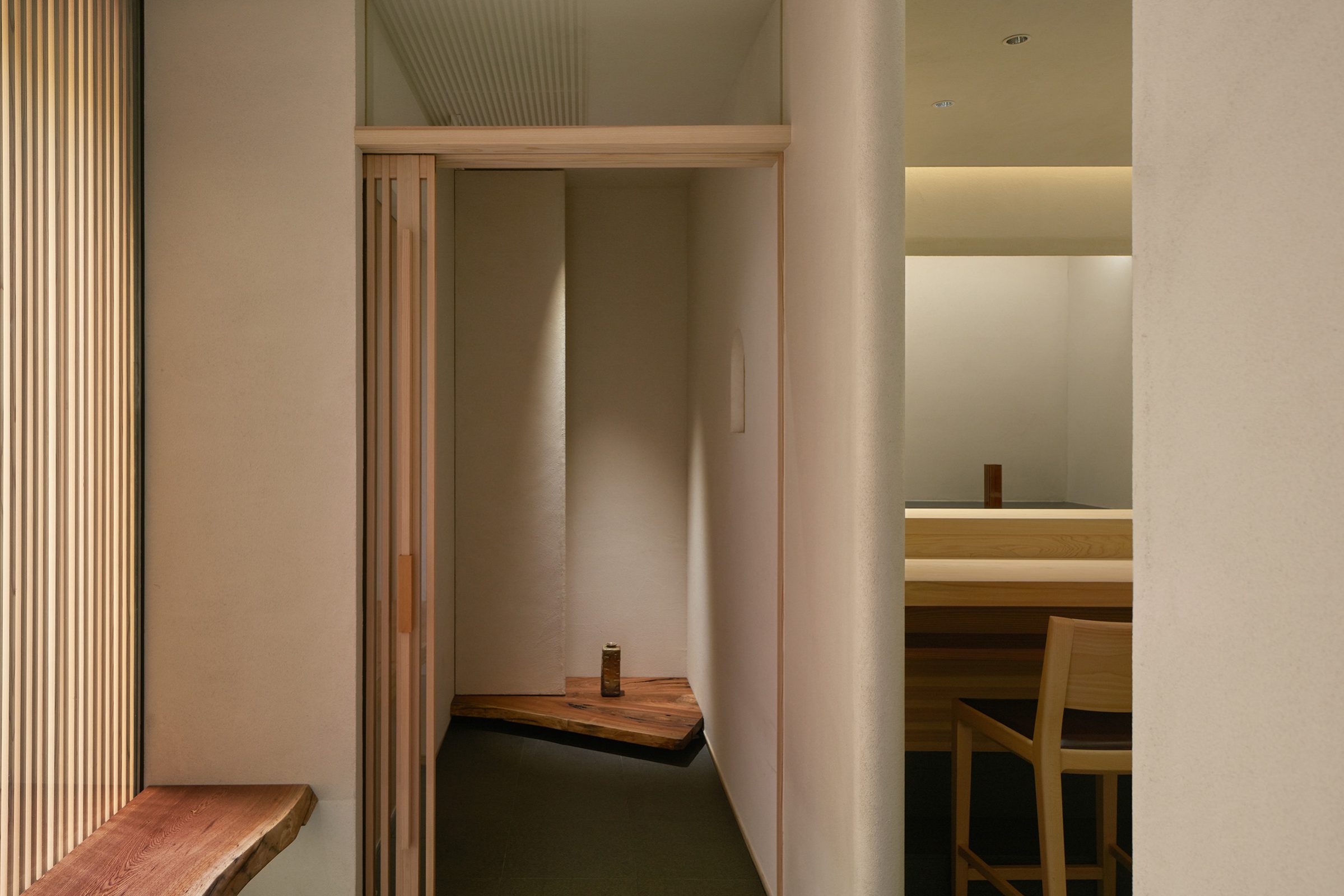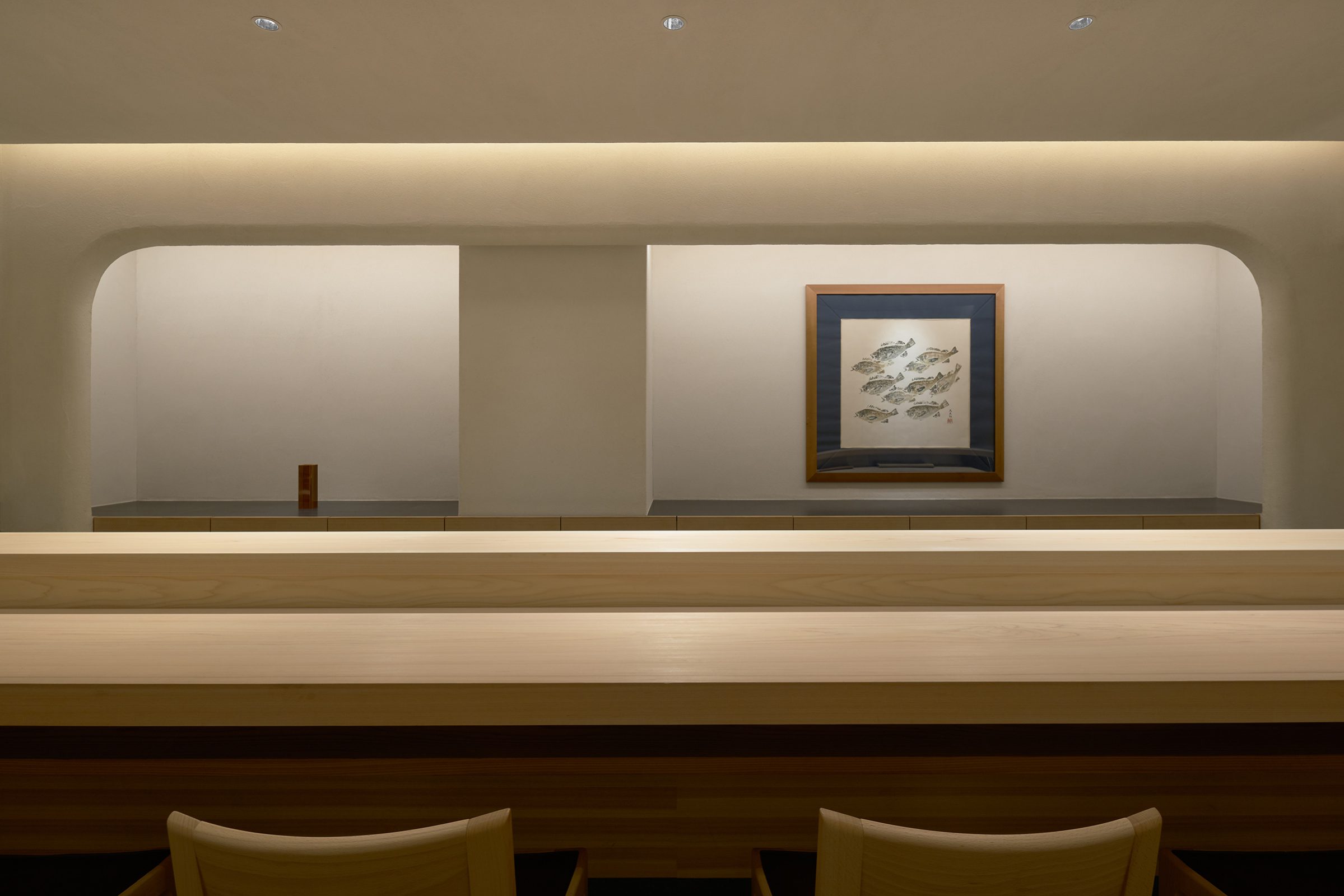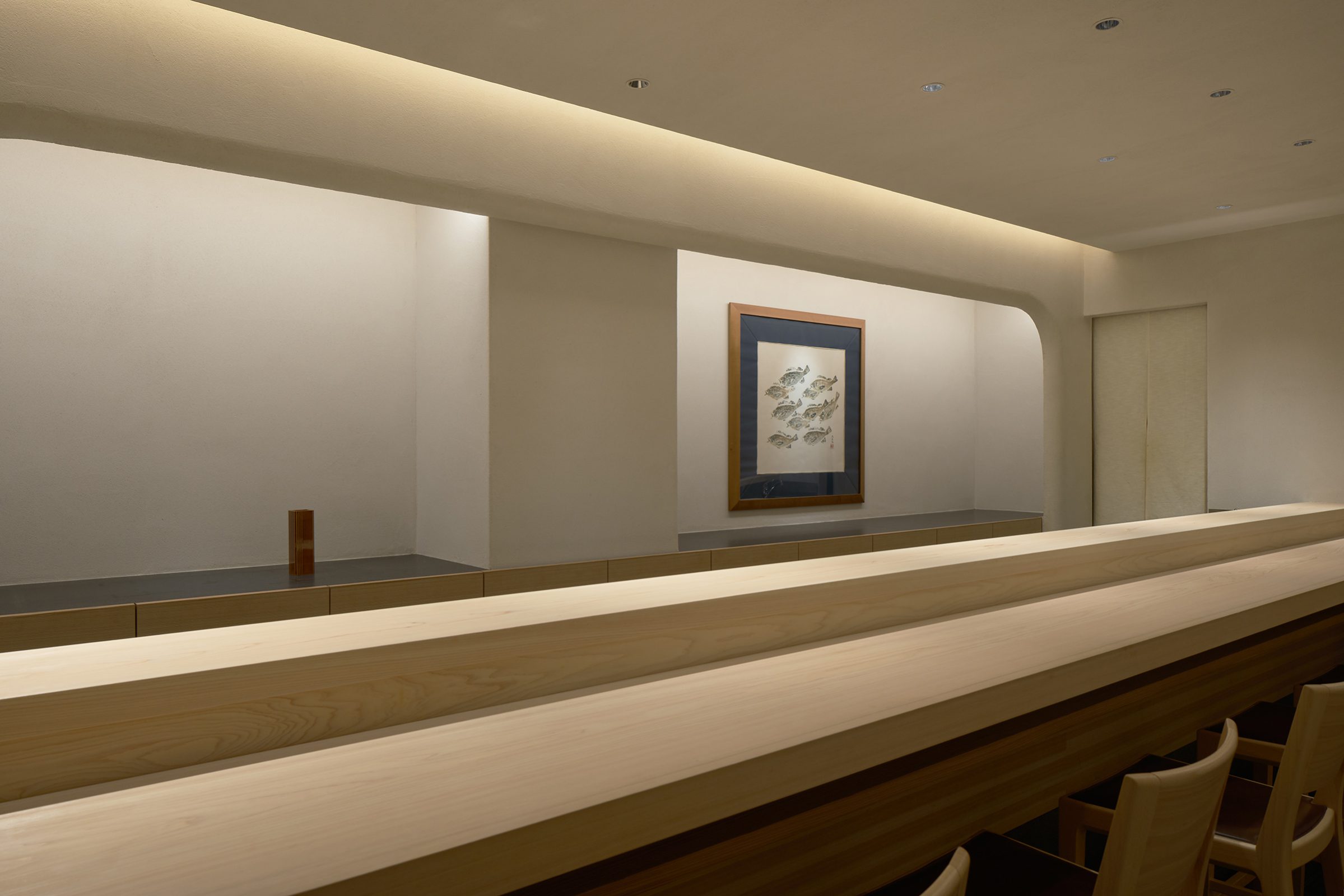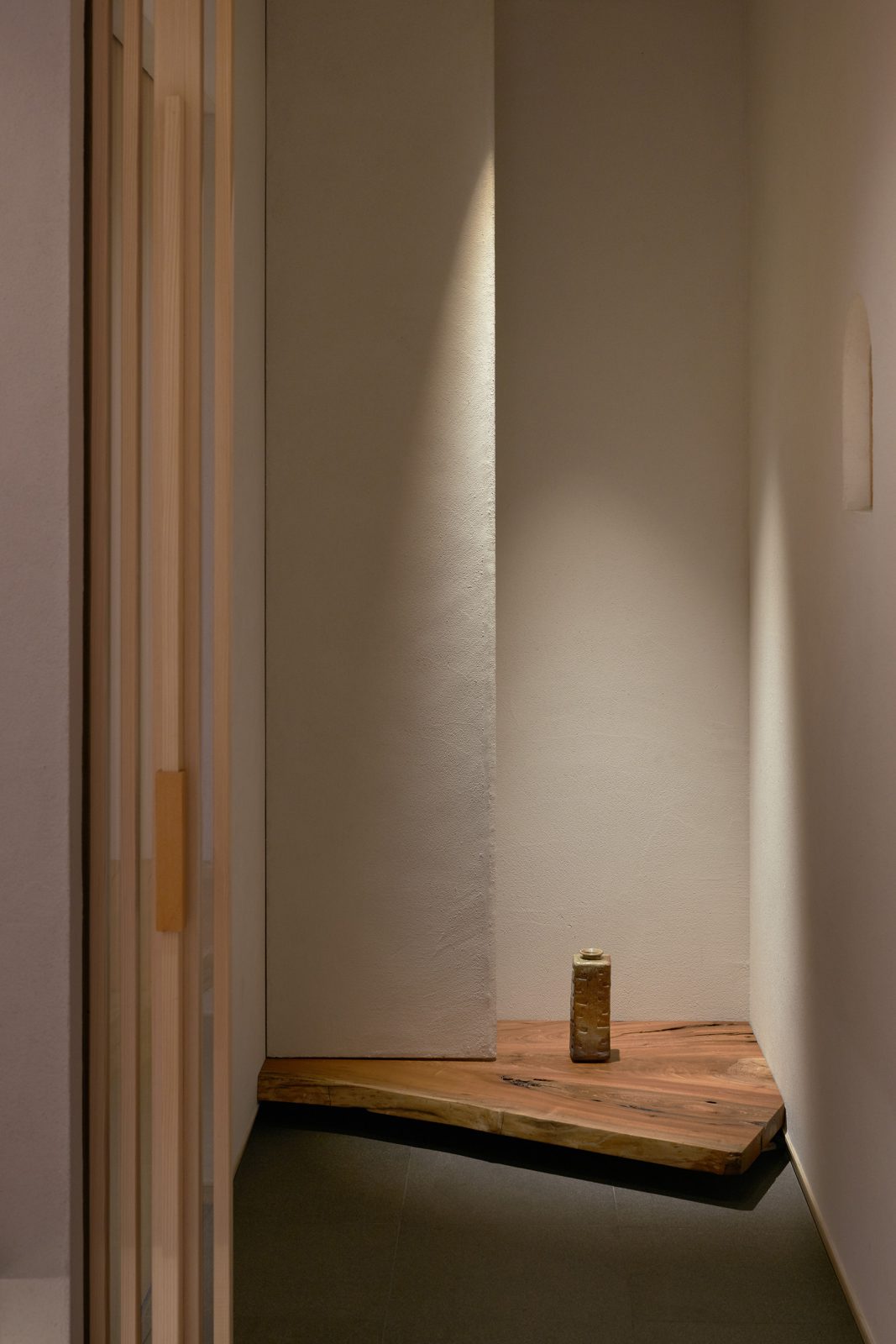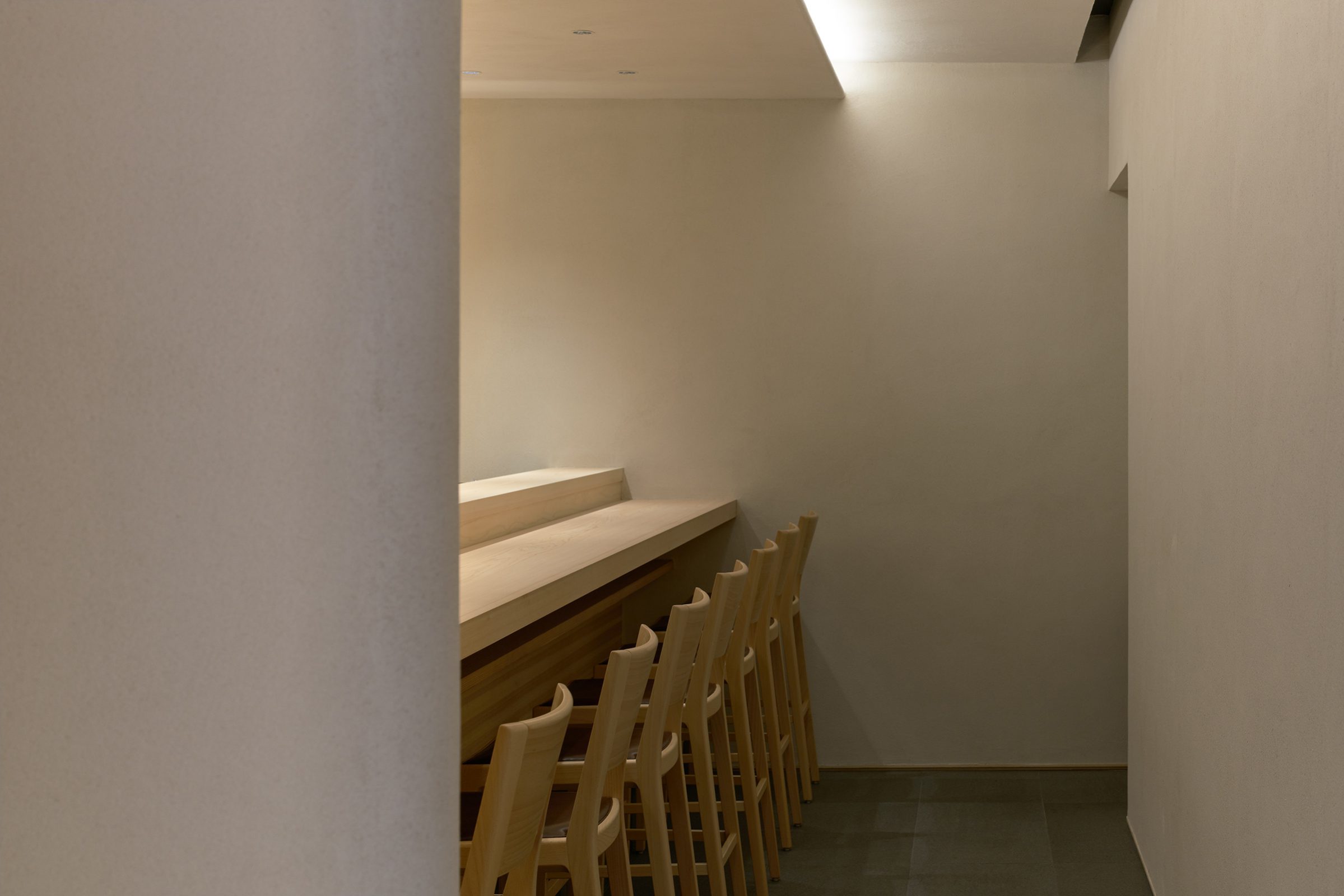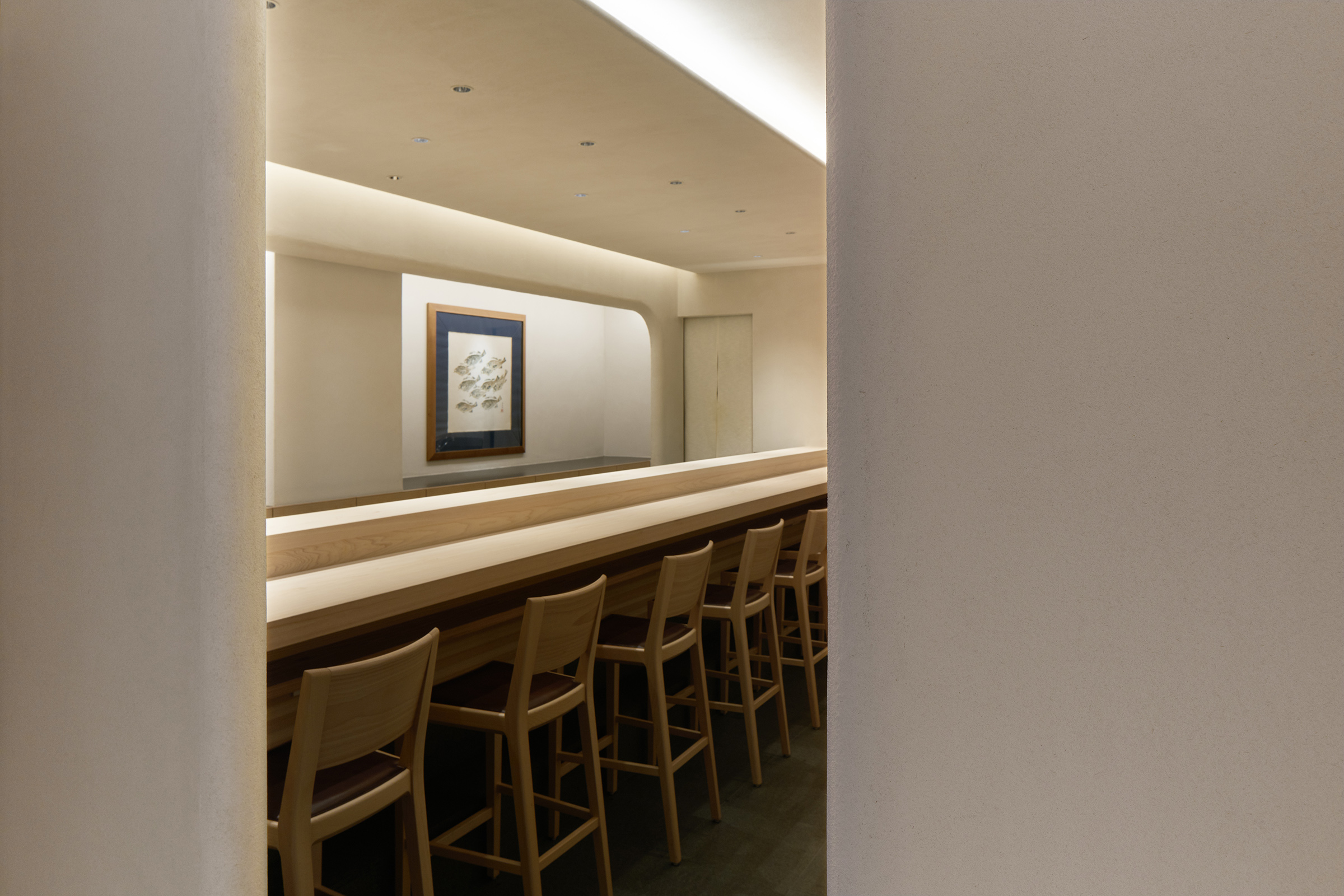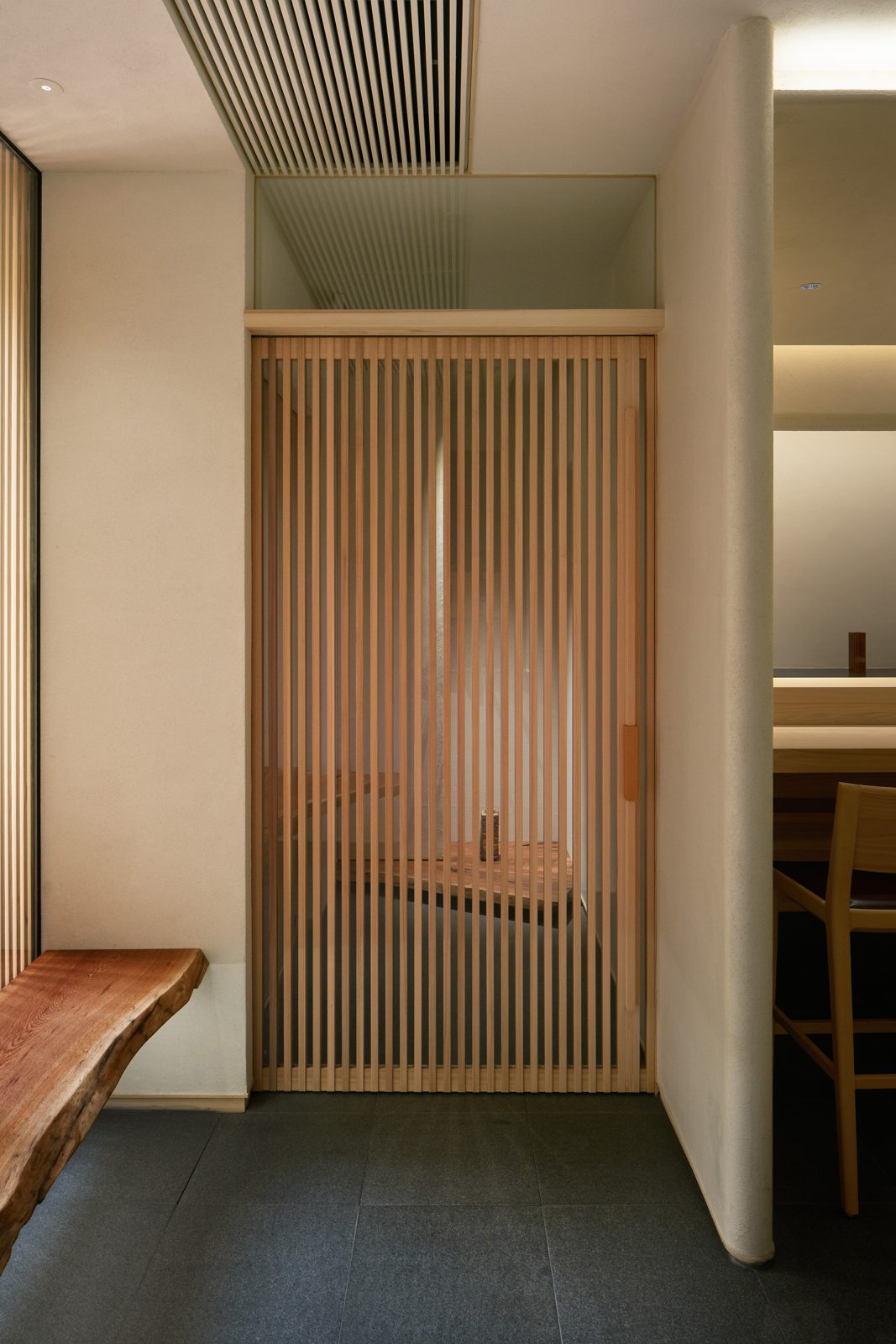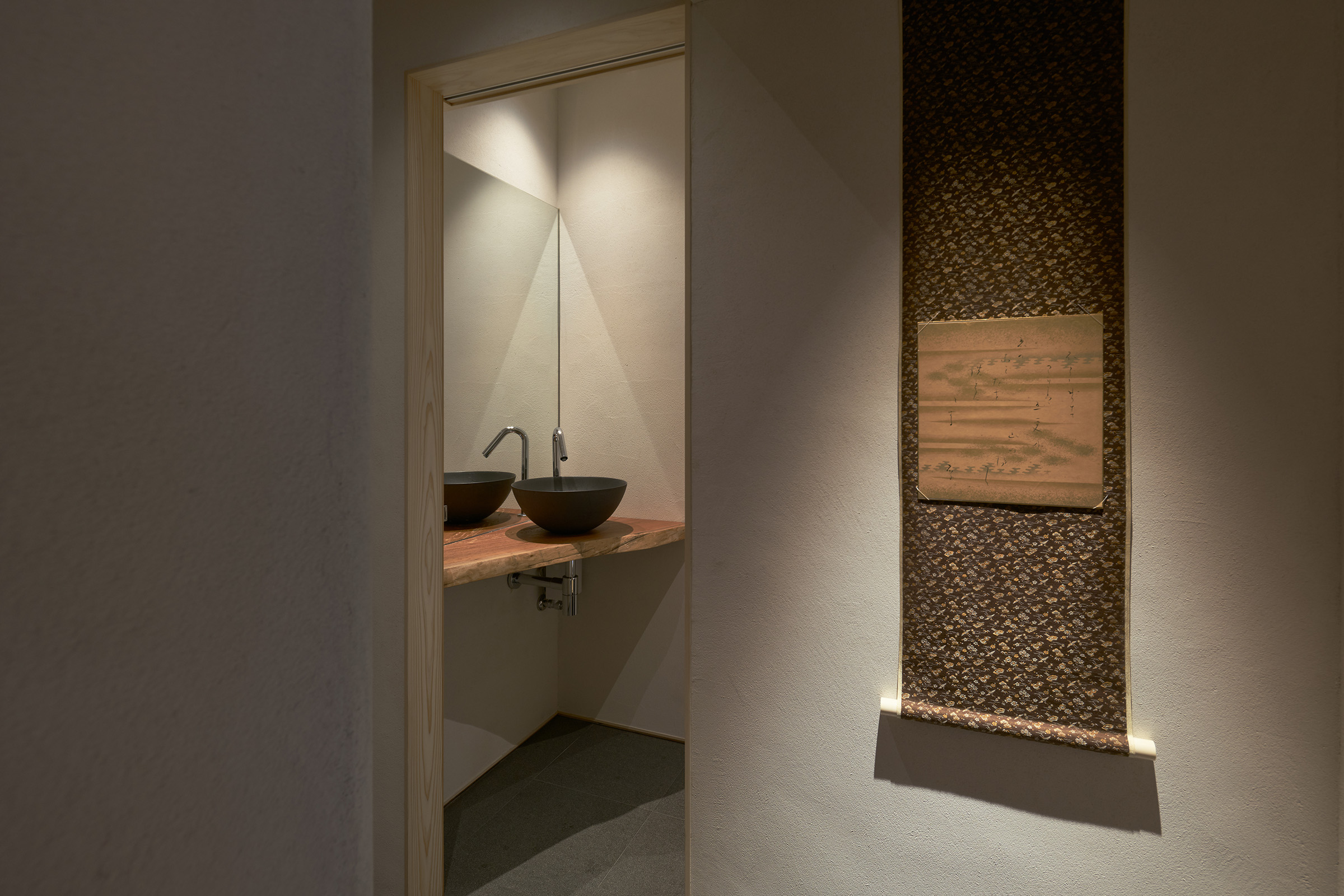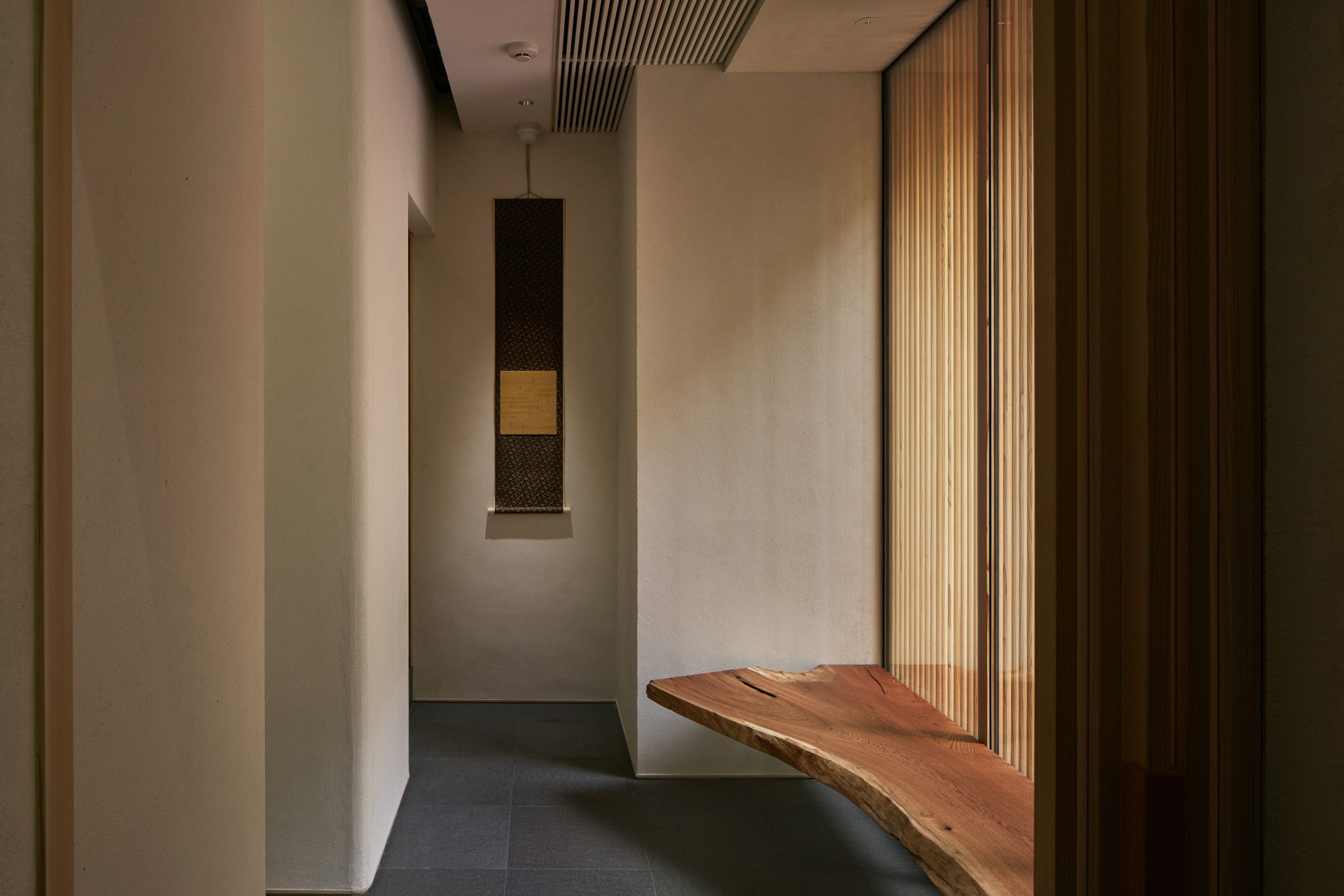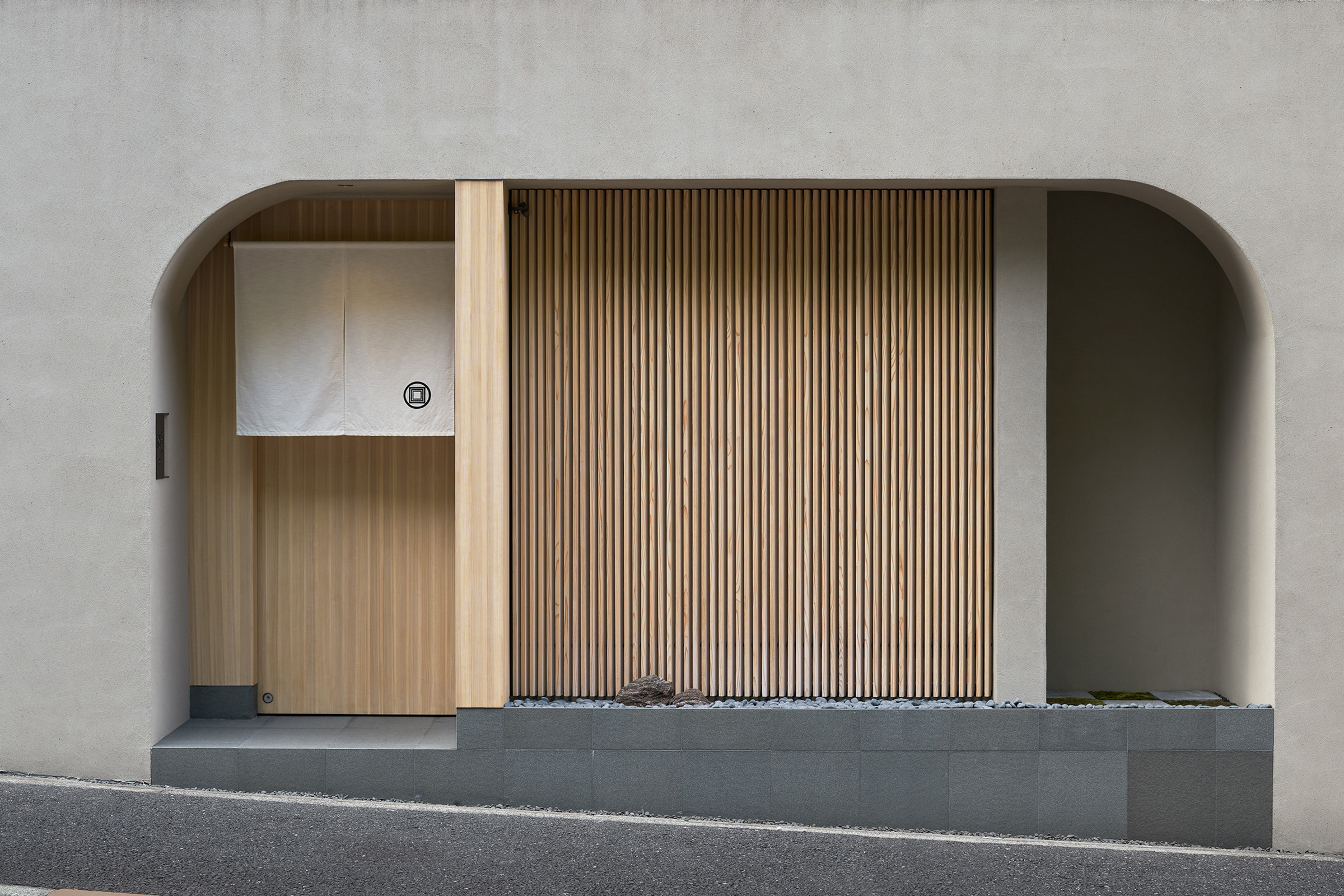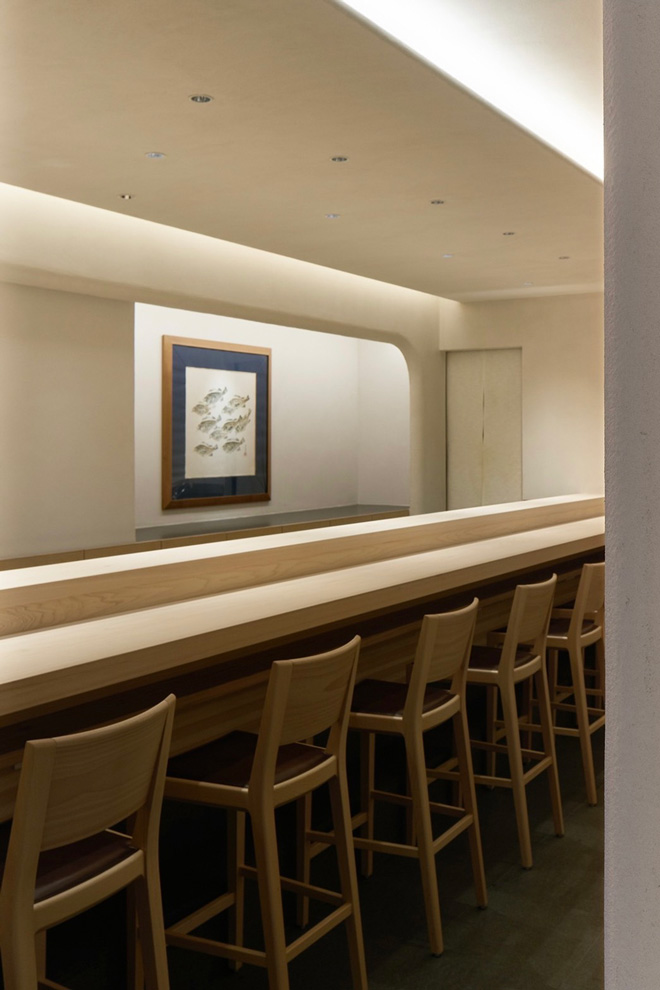 ファサードから、カウンターまでのリズムを大切に、
ディテールをつなげることで
顧客の体験もデザインした。
Site: 東京
Architect: 芦沢啓治建築設計事務所
Project architect: 芦沢啓治 / 入江麻里子
施工: 幹建設
設備工事: フカケン
Photo: Daici Ano
皇居の東側に隣接するイギリス大使館の側の、ひっそりとした場所に鮨みずかみはある。ふらりとお店に入るような場所ではない。みずかみを目指してきた人だけがここにたどり着くような場所である。
 
店主である水上さんが、すきやばし次郎での長きにわたる修業を経て、満を辞して開業された鮨屋である。江戸前鮨として、伝統的な空間を作りたいという要望であった。
 
エントランスは、既存の建築の意匠であるアーチを活かし、小さな庭と小さなアプローチ空間を設けている。引き戸を開け、すでにカウンターに着席している客に気を使わせないために設けられたエントリー空間を経て、待合いへと入っていく。待合いに設けたベンチを始め、エントリーの花台やトイレのカウンターには耳付きの欅を使い、シンプルな空間において、特徴的な雰囲気とリズムをつくり出している。カウンターは8席のみ。2人の職人によってテンポ良く鮨が出されていく。すっとした檜のカウンターに座った客から見える景色は、エントランスの意匠を反復したアーチ状になっており、柱によって分断された二つのバックカウンターによって構成されている。
 
美味しい寿司を食べながらも、お店のエントランスのアーチを思い出すか否かは定かではないが、すばらしい鮨とアーチの意匠も含めた空間体験が重なり合うことで、そこでしか得られない食の体験となれば幸いと思う。
'We designed the customer experience by connecting details, creating a sense of rhythm from the facade visible from the street to the counter.'
Site: Tokyo
Architect: Keiji Ashizawa Design
Project architect: Keiji Ashizawa / Mariko Irie
Photo: Daici Ano
Sushi Mizukami is located in a secluded area by the British Embassy on the east side of the Imperial Palace in the heart of Tokyo. It's not a place you would stumble upon unexpectedly. Only those who know where to look can find the restaurant.
 
The owner, Mr Mizukami, opened this sushi restaurant after a long apprenticeship at the legendary Sukiyabashi Jiro. He wanted to create a traditional space for Edo-style sushi.

The entrance takes advantage of the existing archway, with a small garden and porch. Upon opening the sliding door and passing through the inside entry space, designed to keep customers already seated at the counter from being distracted, you arrive at the waiting area. The benches in the waiting area, the flower stand near the entrance, and the toilet counter are all made of live-edge zelkova wood. They create a distinctive atmosphere and rhythm in a simple setting. There are only eight seats at the counter, where two chefs serve sushi at a fast pace. The view seen by guests sitting on the sleek cypress counter is an arch that references the design of the entrance and is composed of two alcoves separated by a pillar.
 
You may not recall the arch at the restaurant's entrance when enjoying your sushi. However, we hope that the combination of the magnificent sushi and the spatial encounters, including the design of the arch, will make it a unique dining experience.