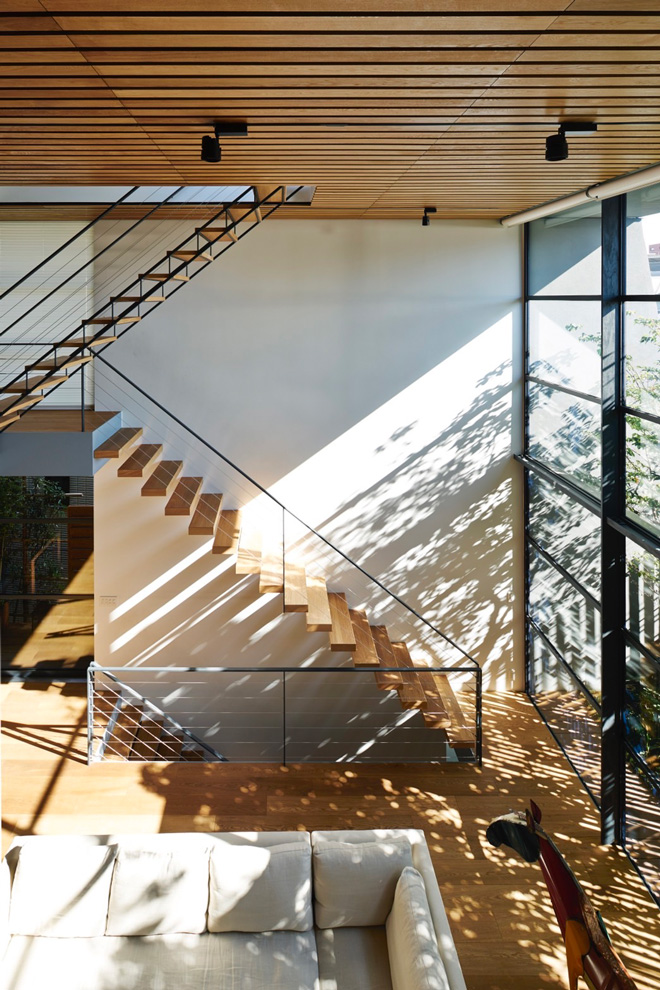 "都心に住宅地でありながらテラスの植栽を通した自然光と、彫刻的な階段のバランスによって豊かなリビングスペースを作っている。"
Site: 東京
Architect: 芦沢啓治建築設計事務所
Project architect: 芦沢啓治 / 本條理恵
Structural engineer: ASA 鈴木啓
施工: 松本コーポレーション
Photo: Daici Ano
都心の閑静な住宅街に建つ、5人家族のための家である。
 
クライアントは敷地条件を生かし、地下1階、地上3階の4層の建築のなかで、3人の子供と夫婦が快適に過ごし、家族のみならず来訪者も階を跨ぎながらも楽しめる家が欲しいという要望であった。
 
4層+屋上という家においてコンパクトな動線計画とし、楽しみながら移動することを考え、あえて階段室を作らず、オープンな階段を空間の中に美しく配置することを考えた。また周囲の環境を踏まえて、2階にリビングスペースを配し、大きな吹き抜け空間として南からの光を最大限取り込んでいる。光をコントロールすること、また近隣からのプライバシーを考慮して2階のテラスに縦ルーバーを配し、植栽を植え込んでいる。緑とルーバーを通した光が1日中家を光で満たし、リビング空間は明るく、開放的で本当に心地がいい。テラスからはみ出るように植えられた植栽は、4m幅の通りに対して家のインパクトを軽減するよう街並みに配慮している。
家族の共有の場所としての地下室は、吹き抜けと開口部を組み合わせることで、地下とは感じられないような開放感と明るさを作っている。3階から軽やかな階段をのぼりたどり着く屋上には、バーベキューセットと大きなテーブルが配置され、東京らしい景色の中で家族や友人が集う大事な場所となっている。
 
階段でつながる様々な空間体験を洗練させていくことがこの家の豊かさである。この体験こそがクライアントが望んだことであったが、同時に東京のような小さく分割された敷地に多層化された住宅をつくる上での答えの一つであると考えている。
'The balance of natural light coming through the foliage on the terrace and the sculptural staircase create a rich living space.'
Site: Tokyo
Architect: Keiji Ashizawa Design
Project architect: Keiji Ashizawa / Rie Honjo
Structural engineer: ASA Akira Suzuki
Photo: Daici Ano
Ark House is a home for a family of five in a quiet residential area in the city centre of Tokyo.
 
The client wanted to make the most of the site conditions to create a comfortable living environment for a couple and their three children in a four-storey building with one basement floor and three above-ground levels. A home where not only family members but also visitors can enjoy themselves while moving between floors.
 
The minimal circulation plan of the house, which has four storeys and a rooftop, was designed to allow people to enjoy themselves while moving between floors. We wanted to integrate an open staircase elegantly into the space without constructing an enclosed stairwell. The living area is located on the second floor with a large atrium, maximising the light from the south. For light control and privacy from neighbours, vertical louvres and plants are arranged on the second-floor terrace. Light through the greenery and louvres fills the house throughout the day, and the living space is bright, open and comfortable. The foliage, which extends above the terrace, is designed to minimise the impact of the house on the four-metre-wide street, taking into account the surrounding townscape.
 
The basement, which serves as a shared area for the family, combines an atrium and openings to create a feeling of spaciousness and lightness, making it appear less like a basement. The rooftop, accessed by a gentle staircase from the third floor, is furnished with a barbecue set and a large table. It is an important gathering place for family and friends within the typical Tokyo landscape.
 
The richness of this house lies in the refinement of the various spatial encounters connected by the staircase. This experience was what the client wanted, but at the same time, it is one solution to creating a multi-layered house on a small, divided site in Tokyo.