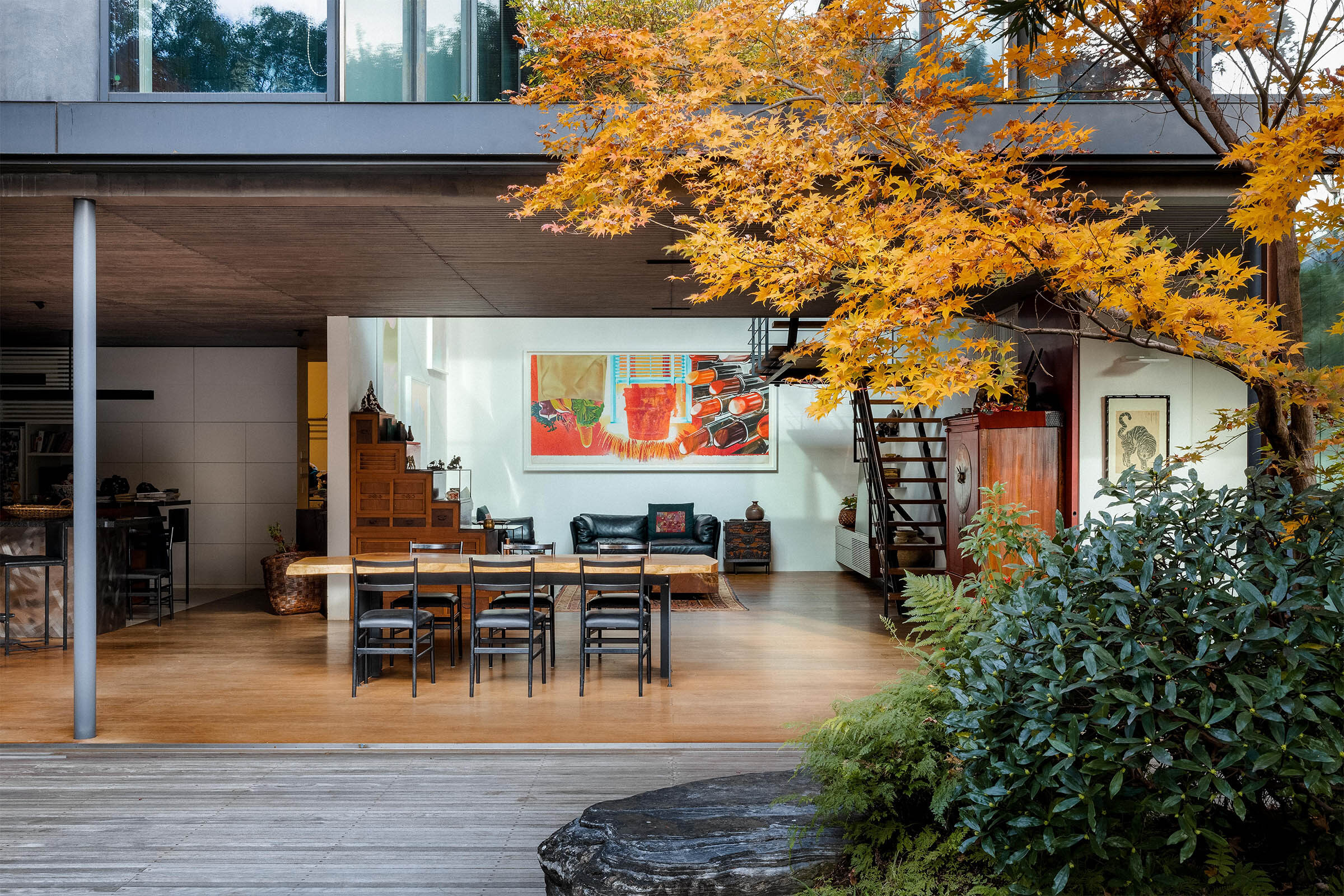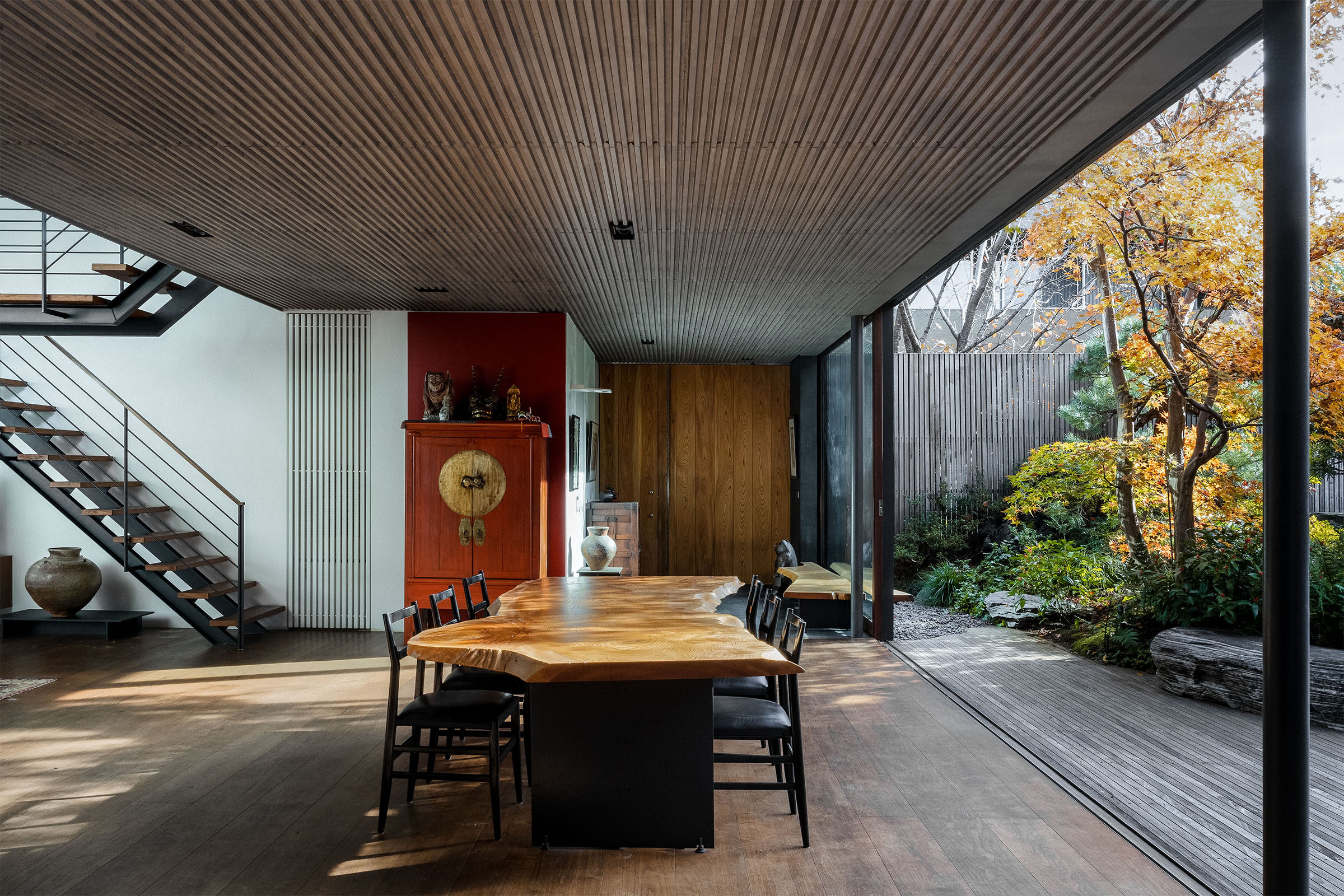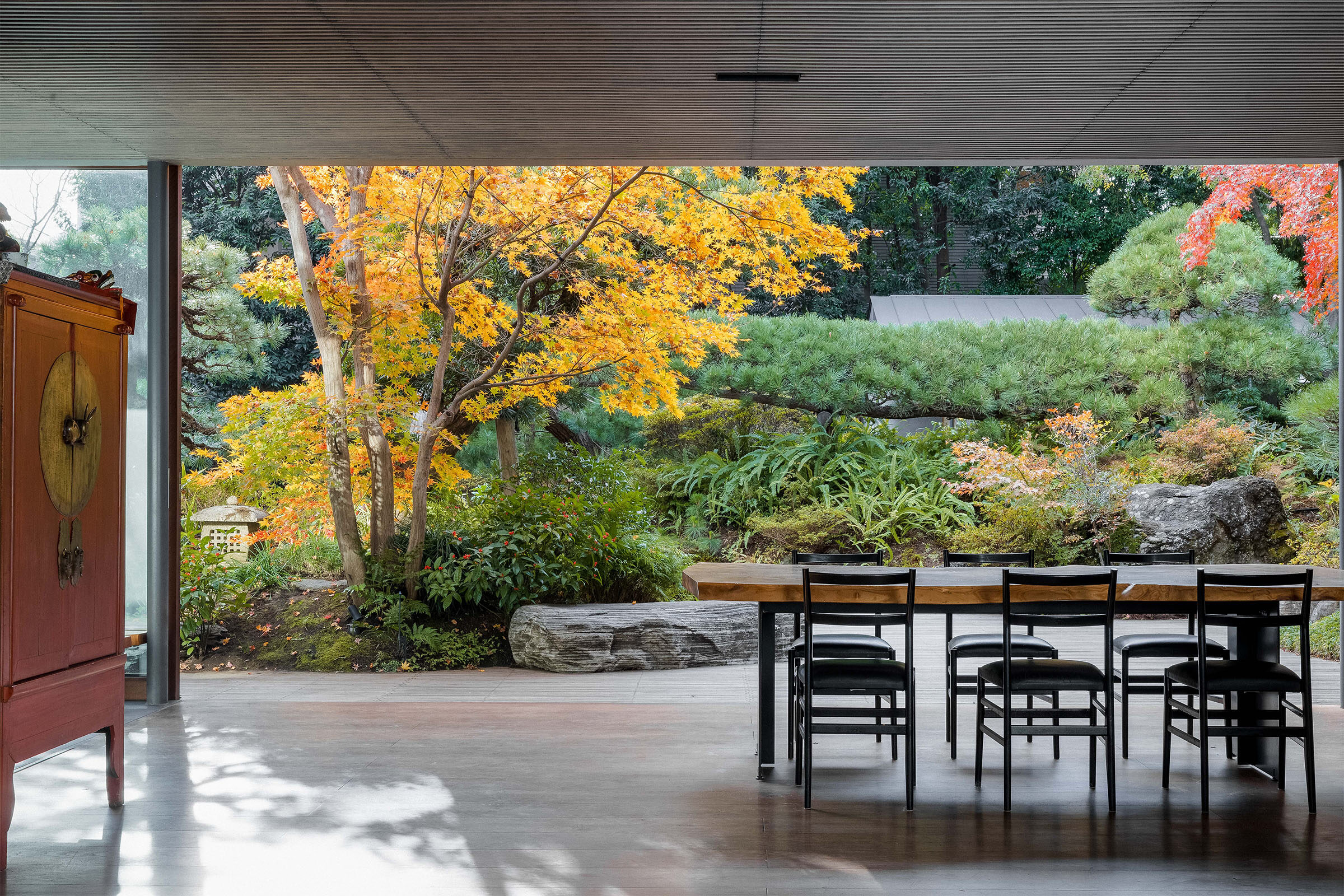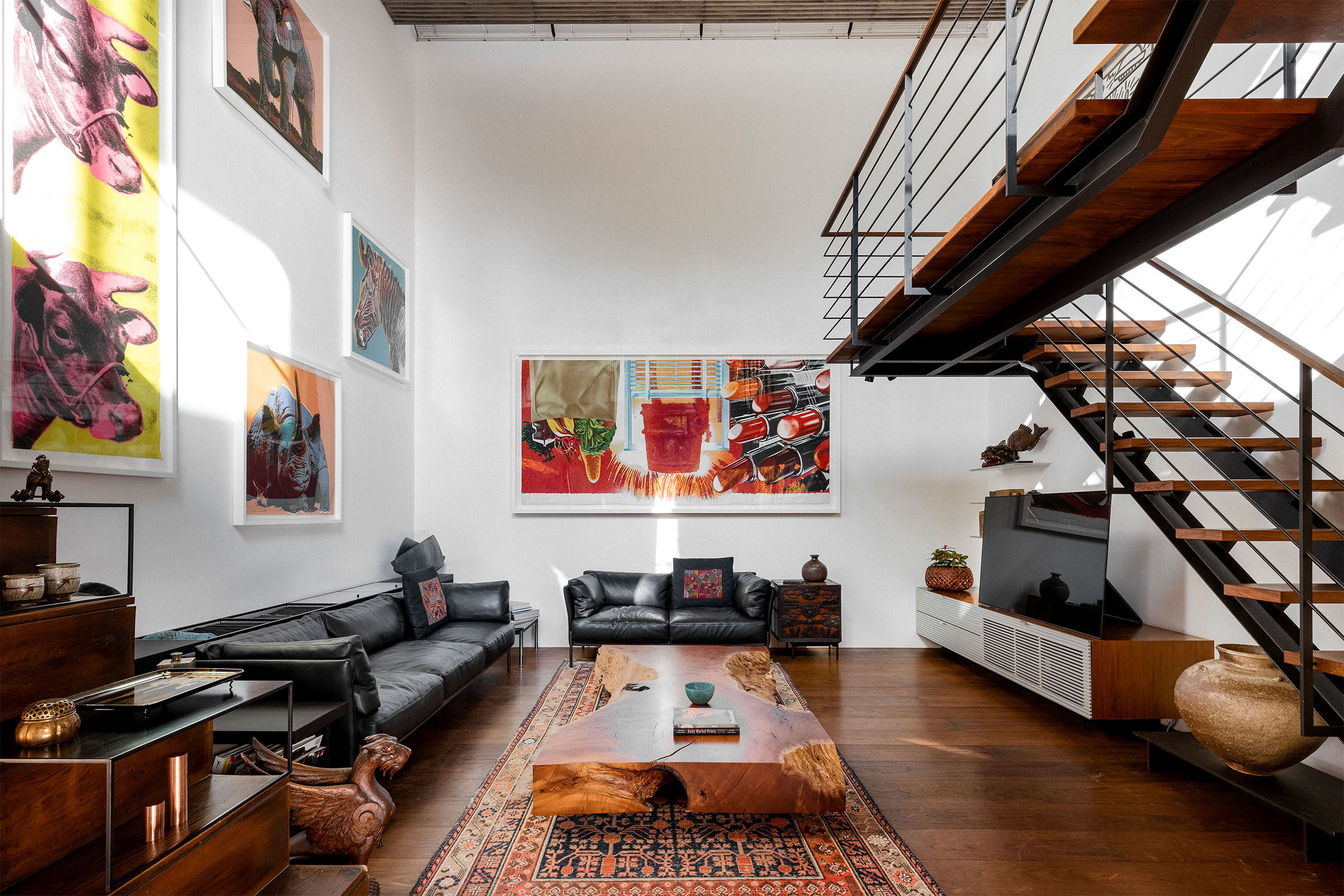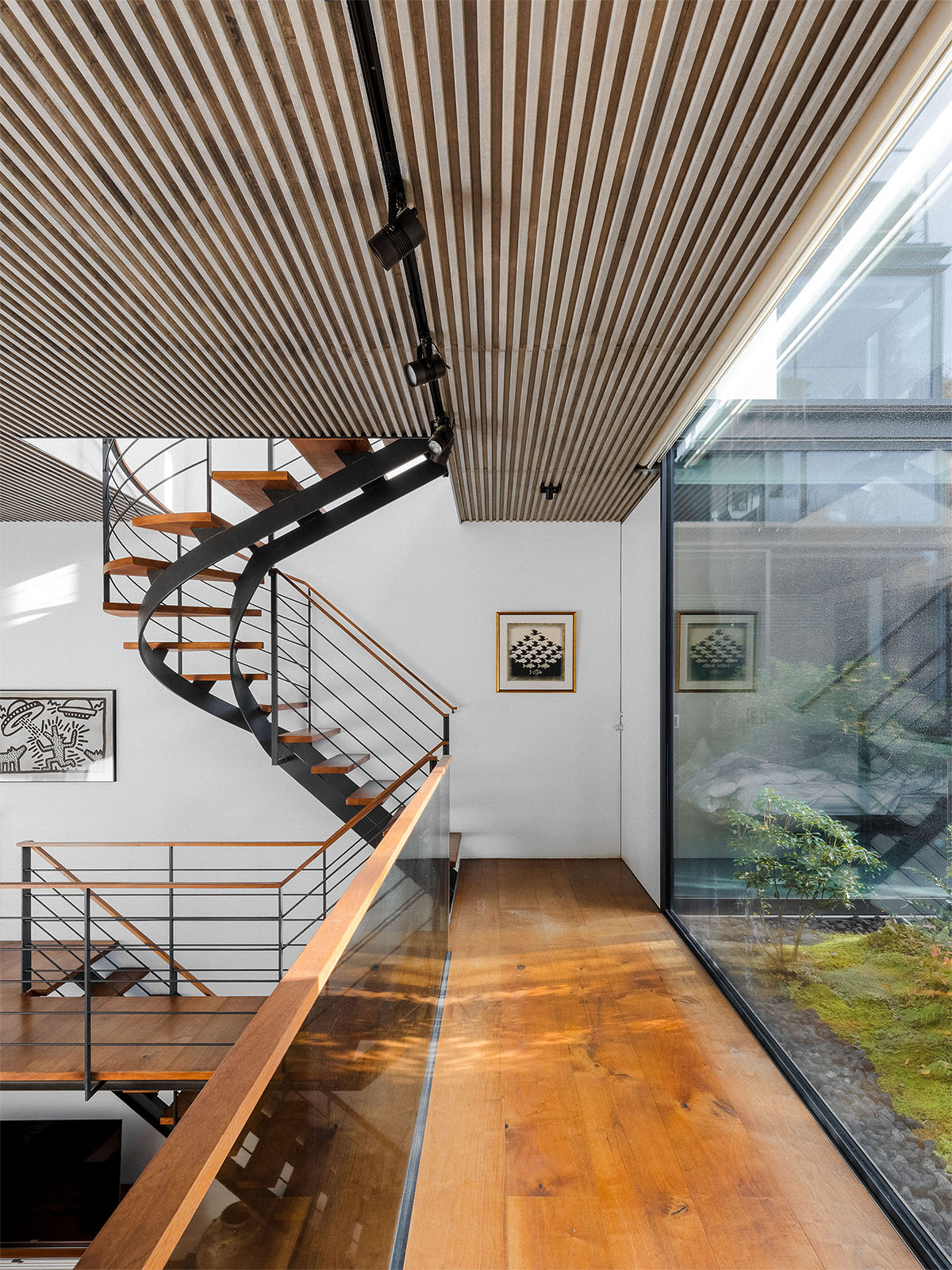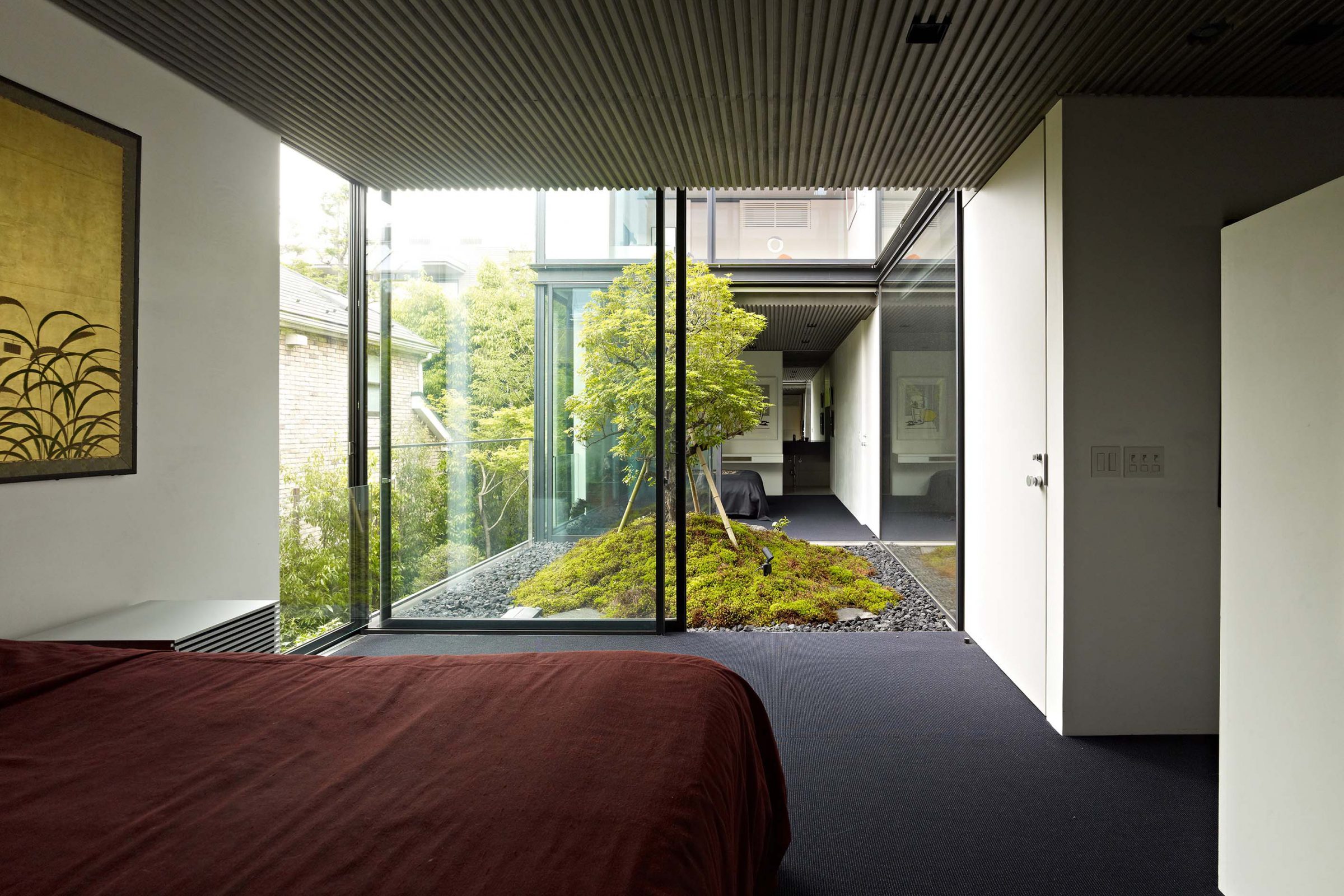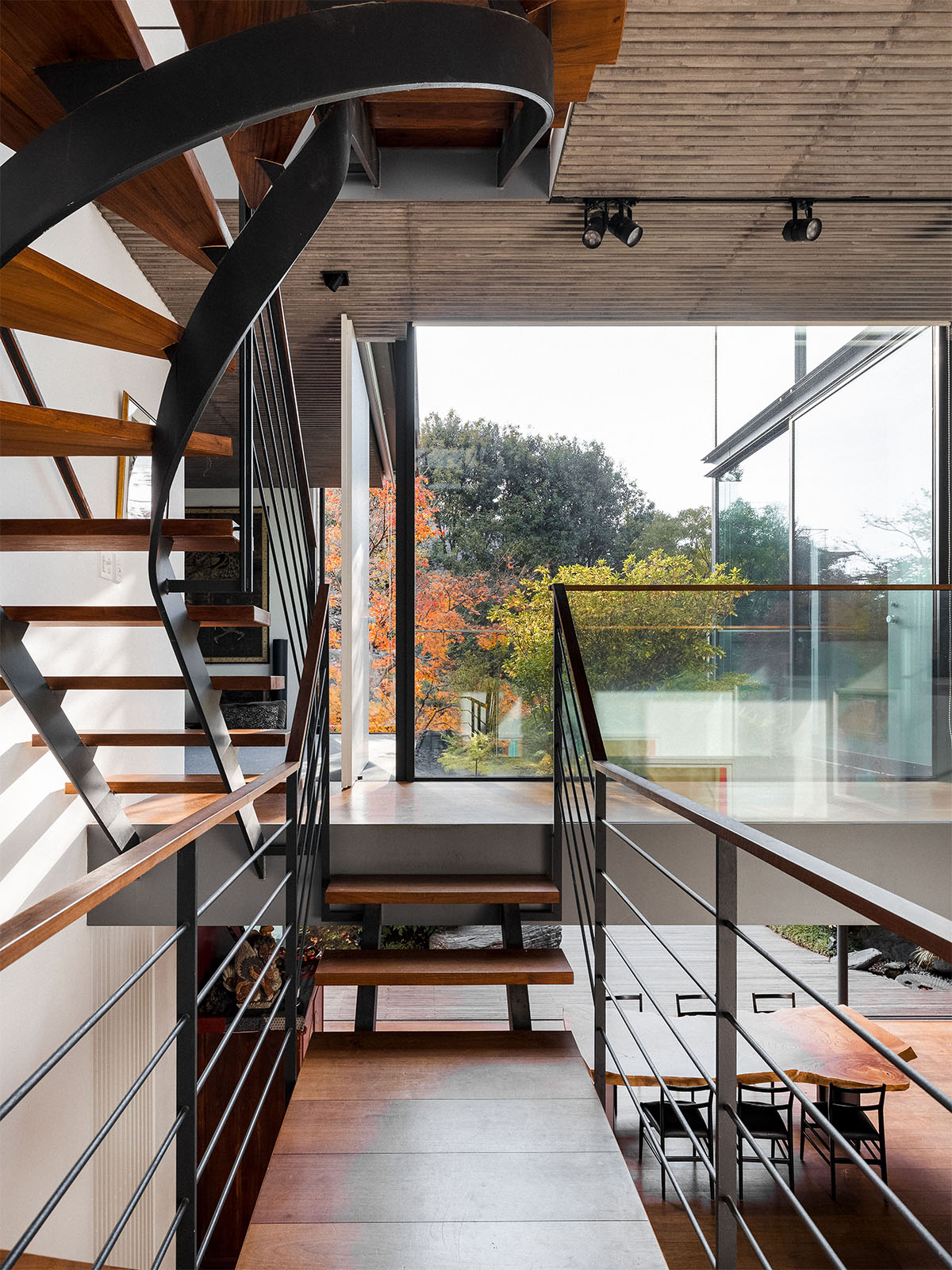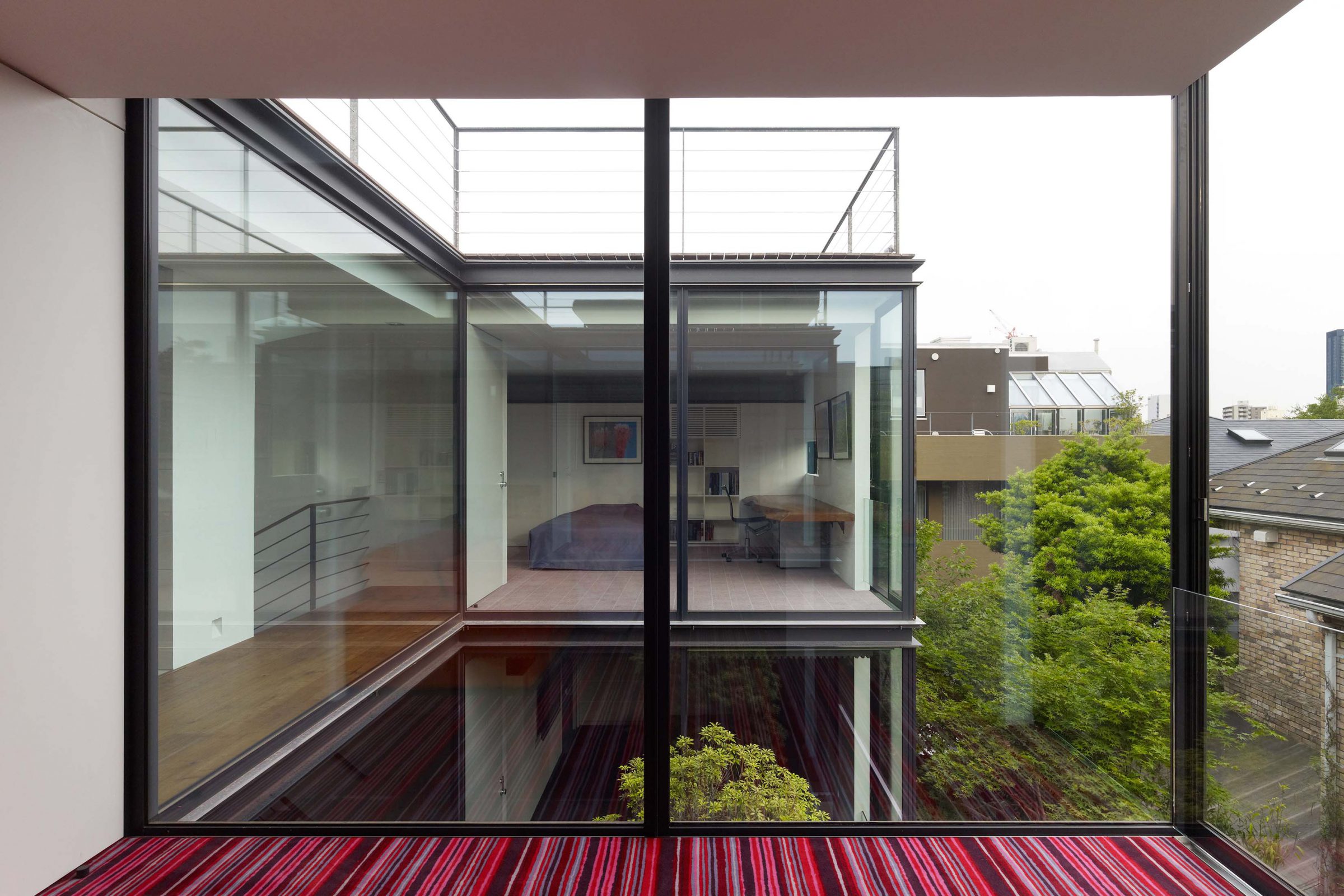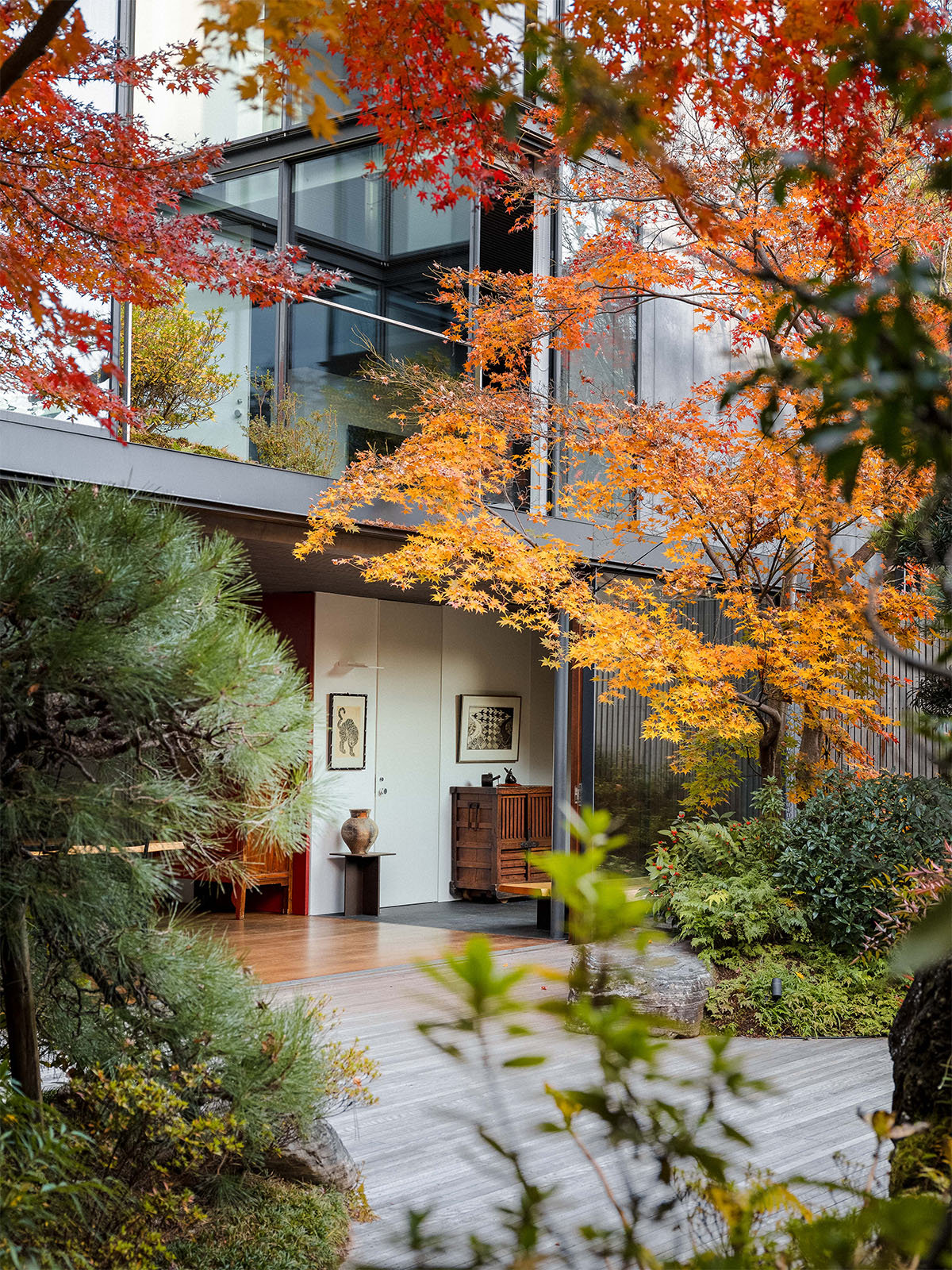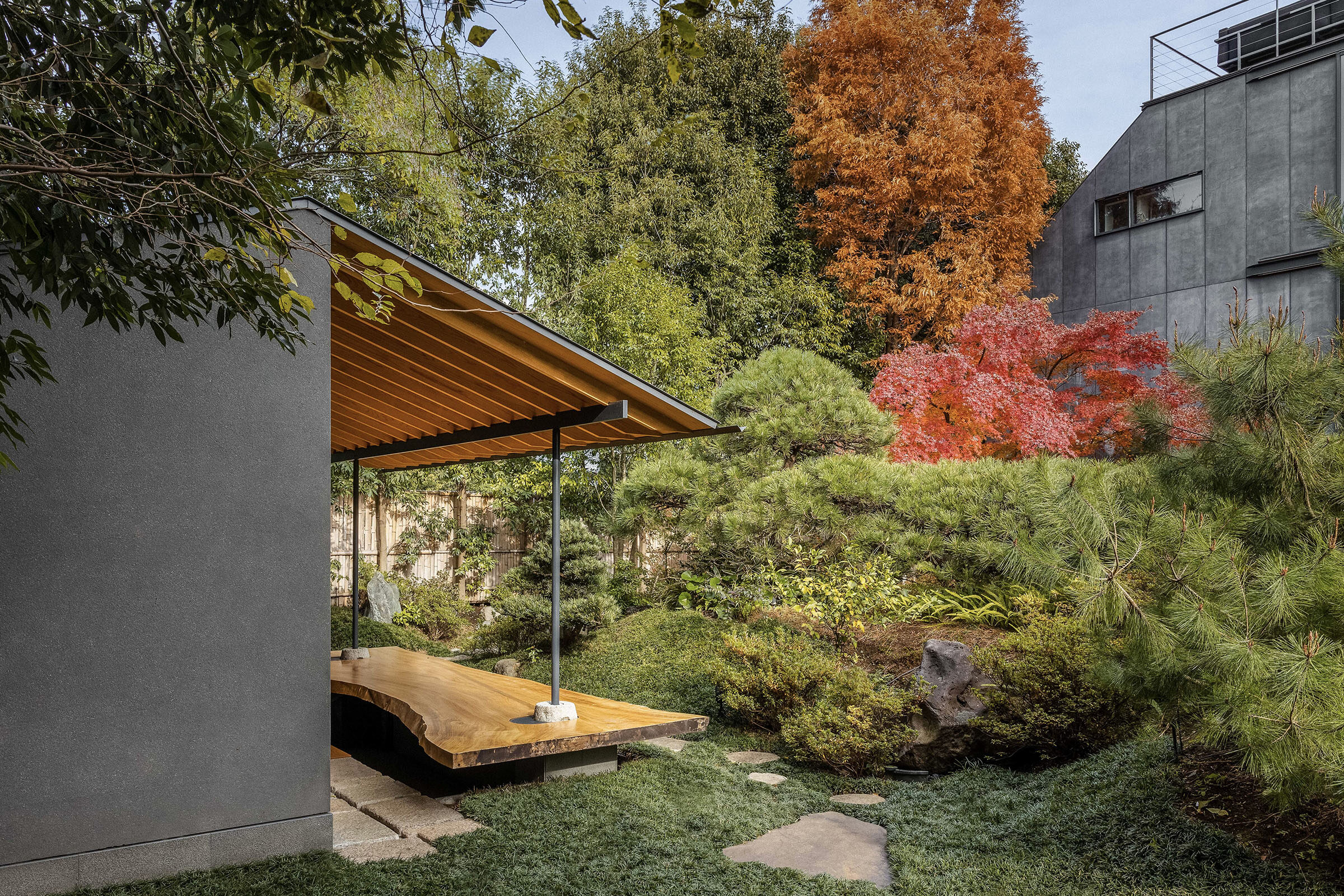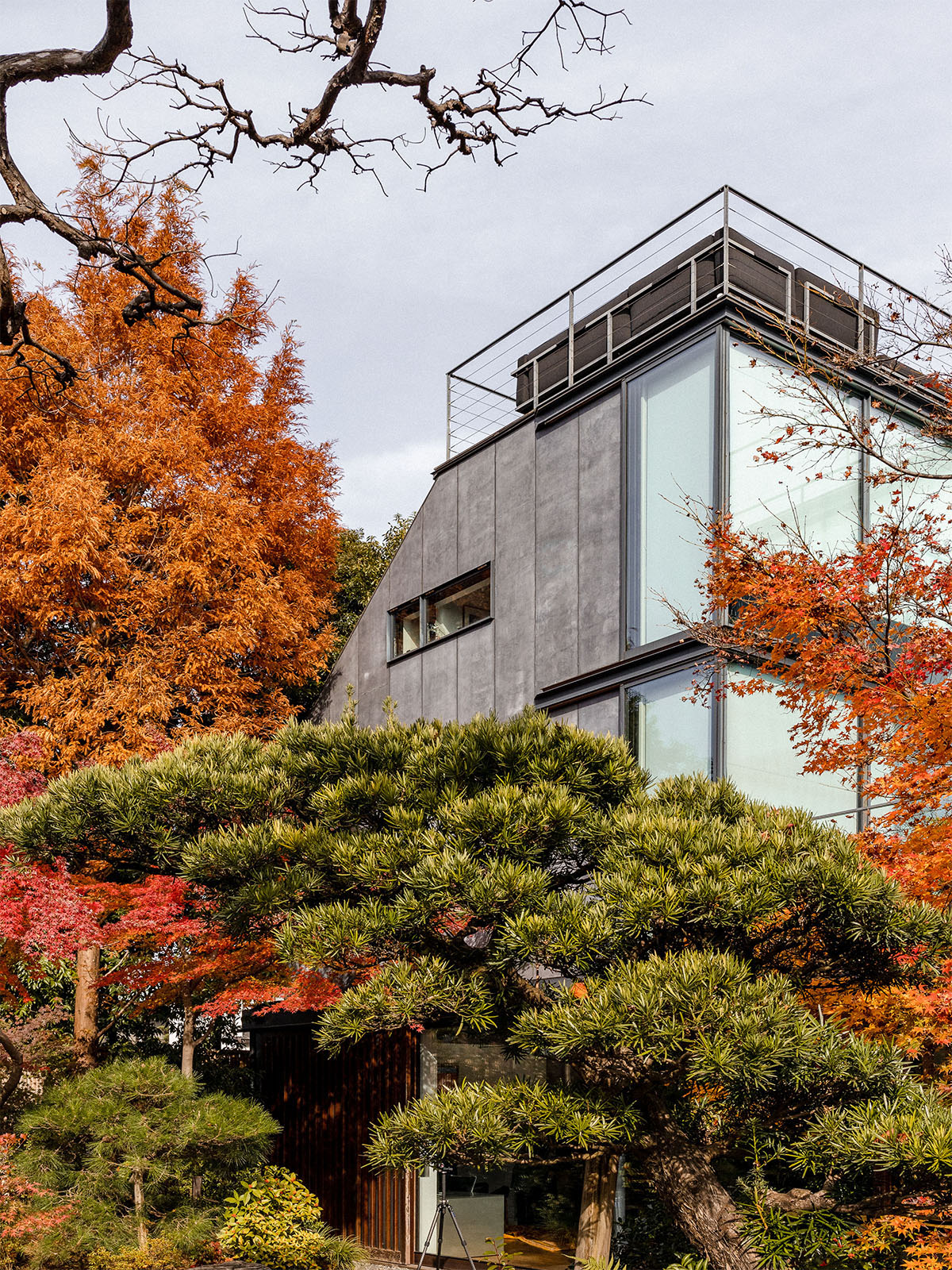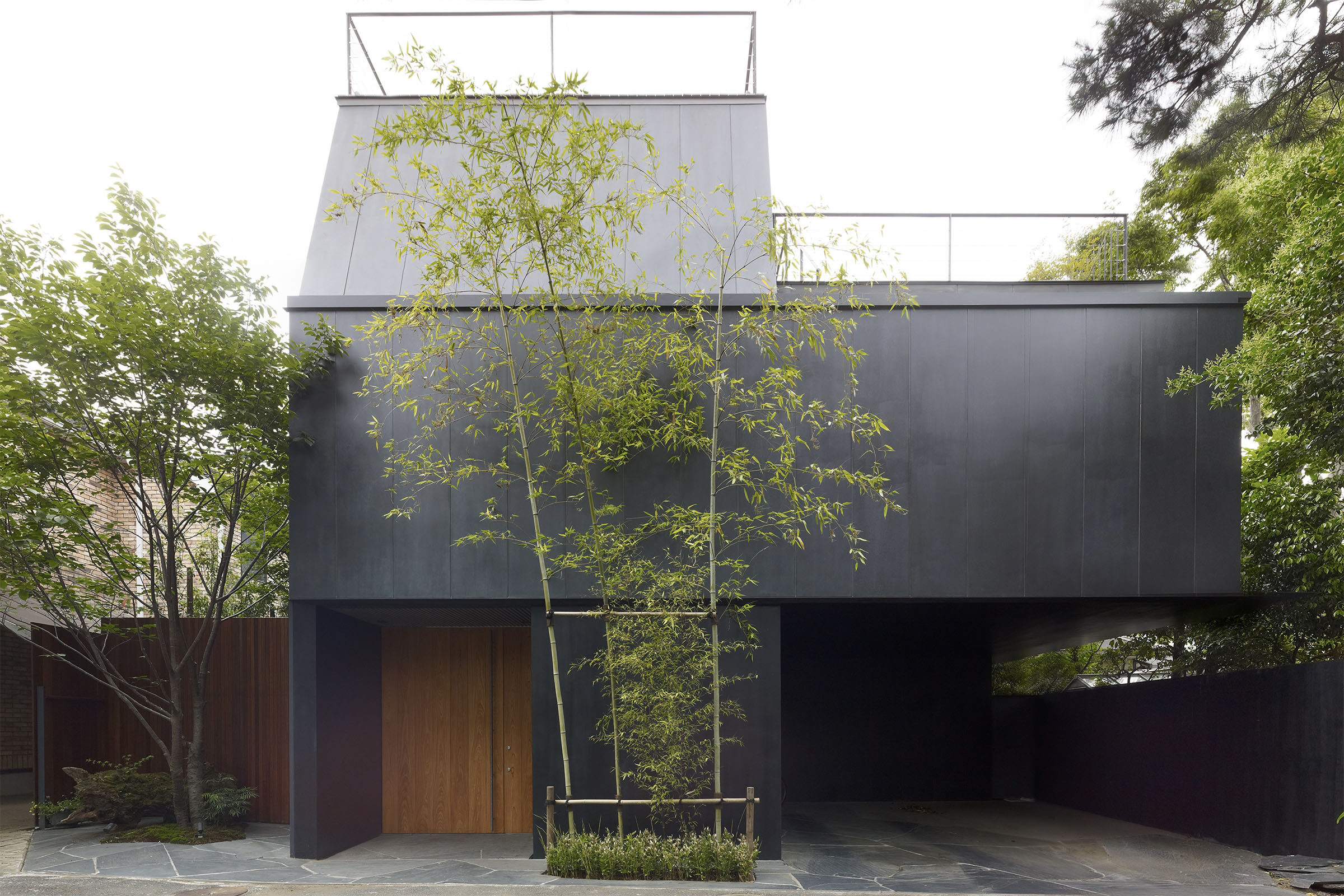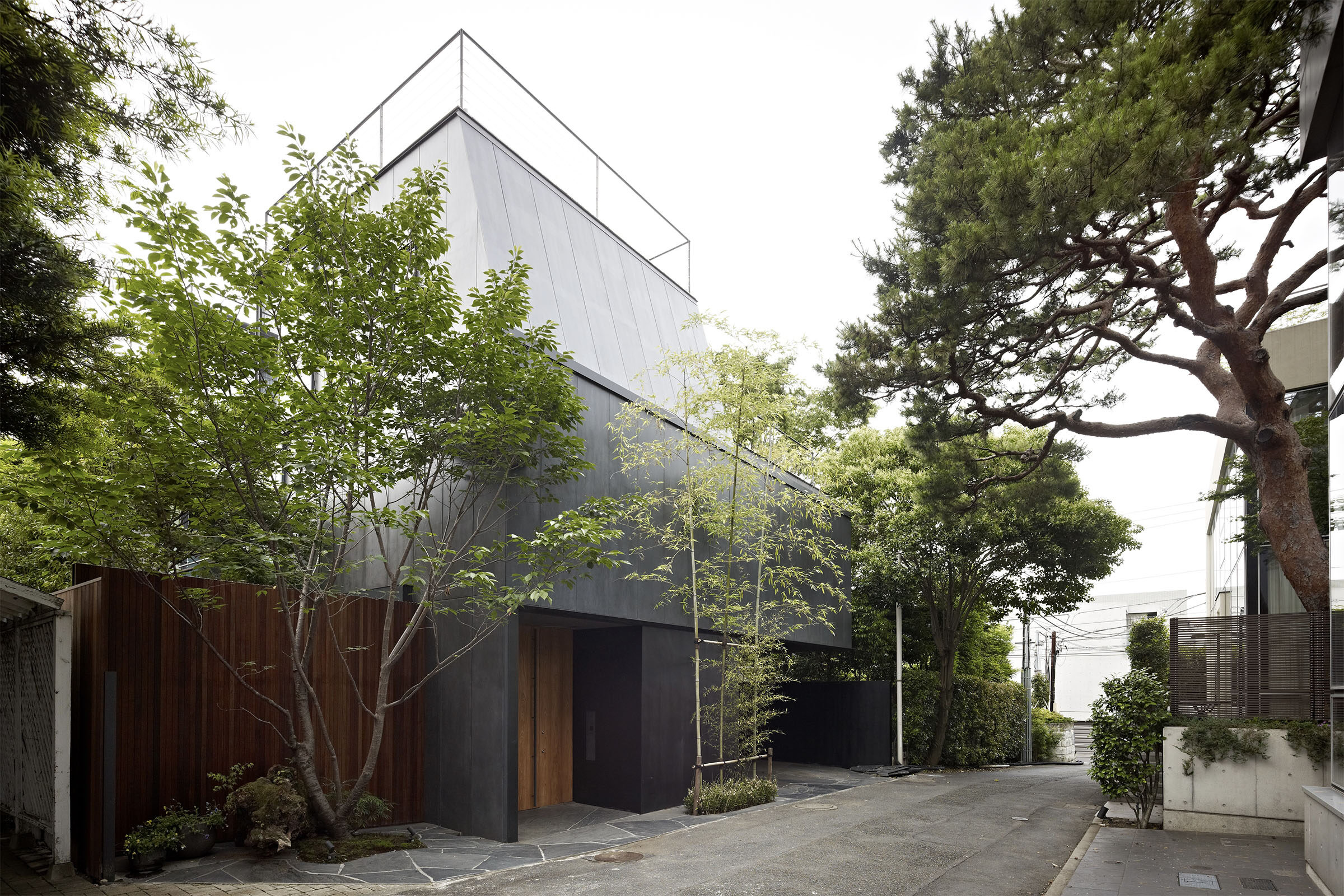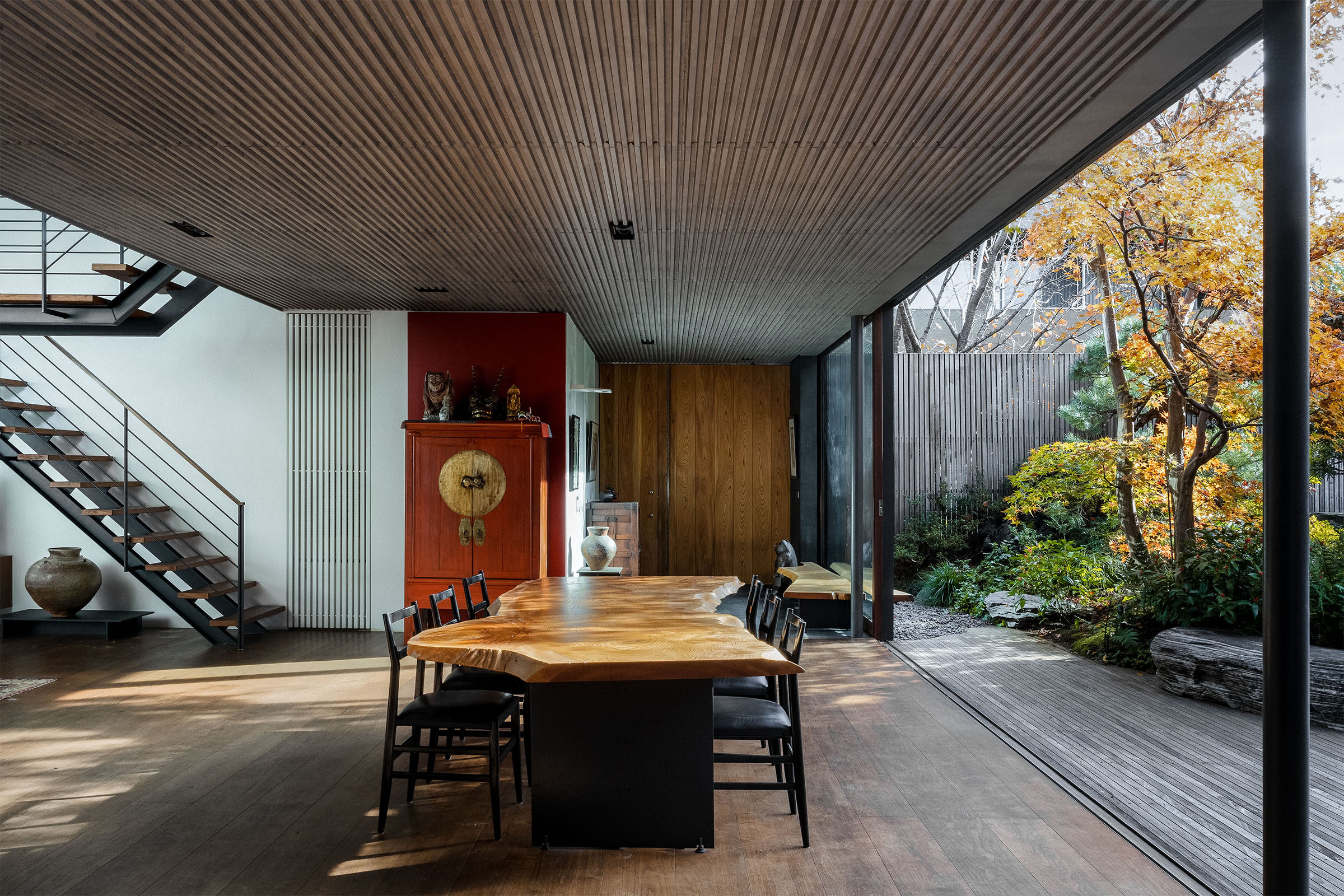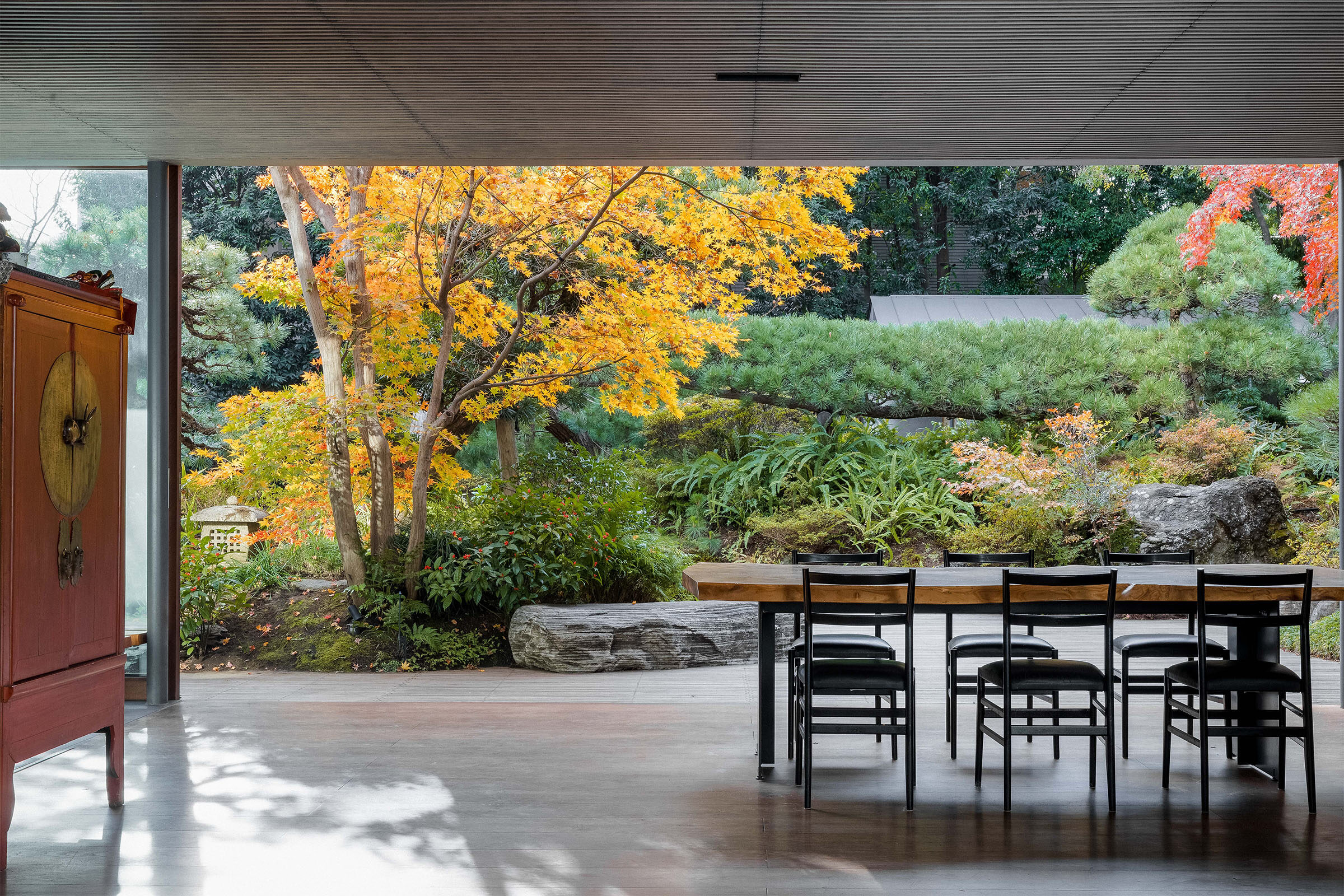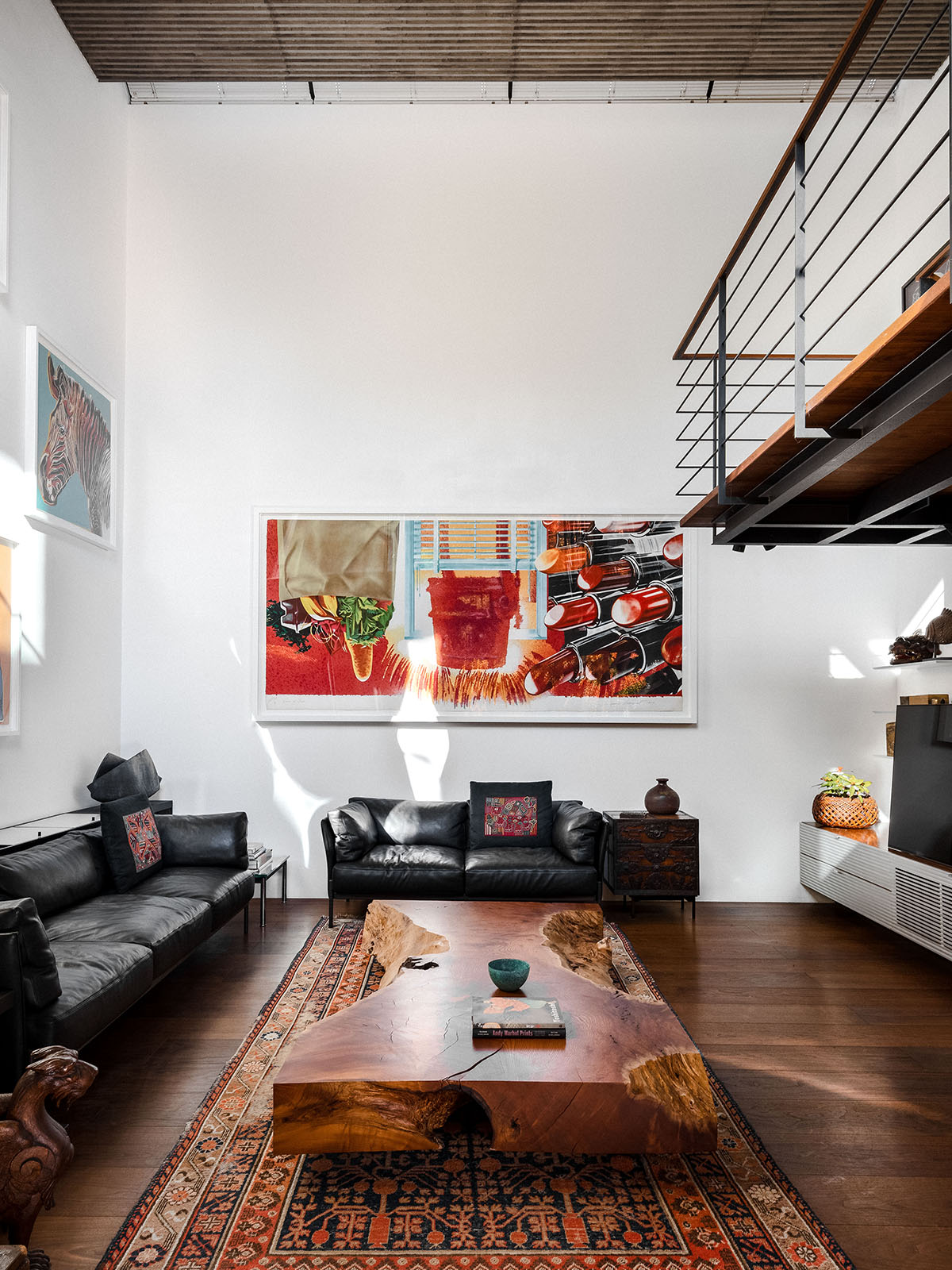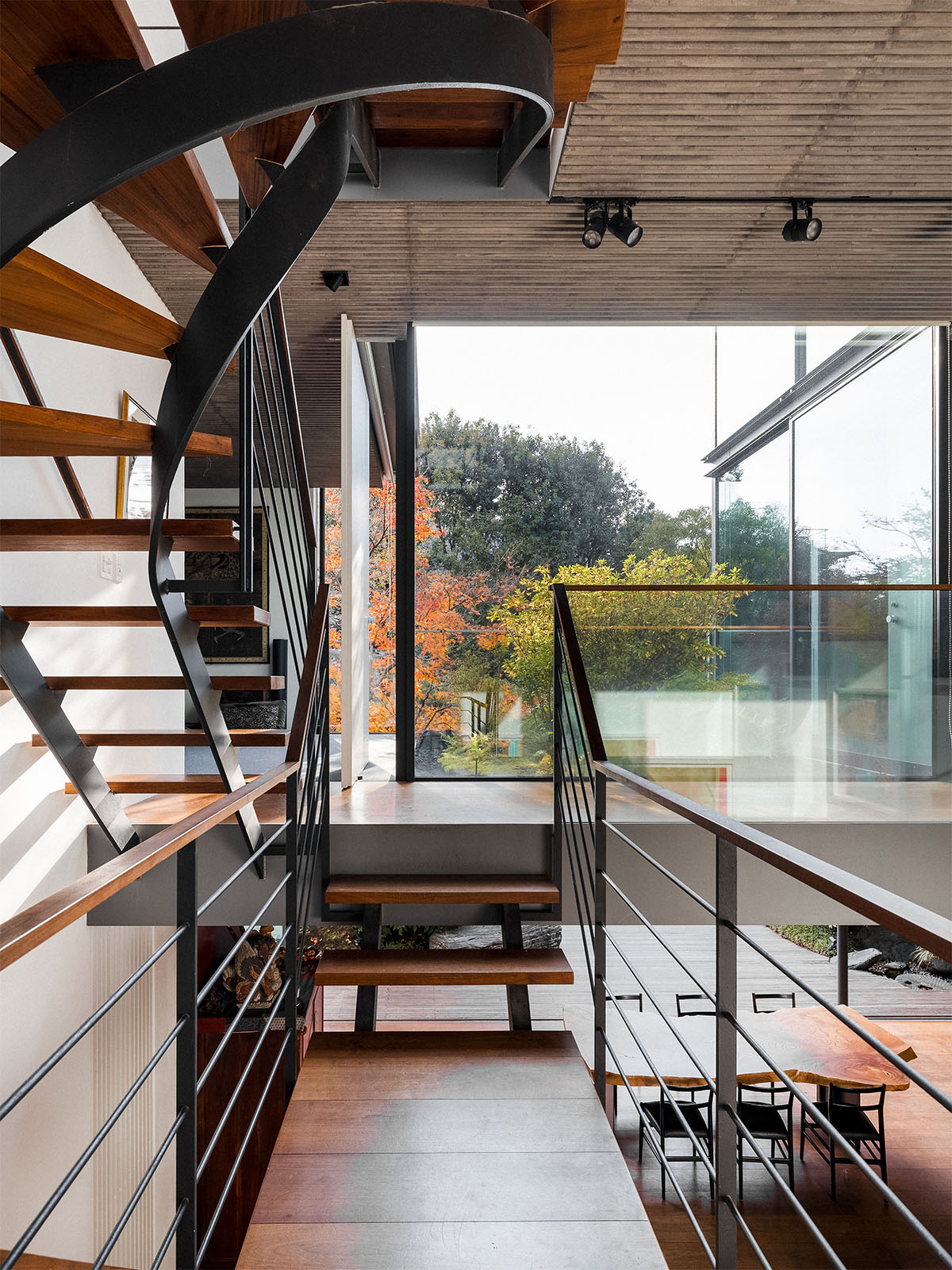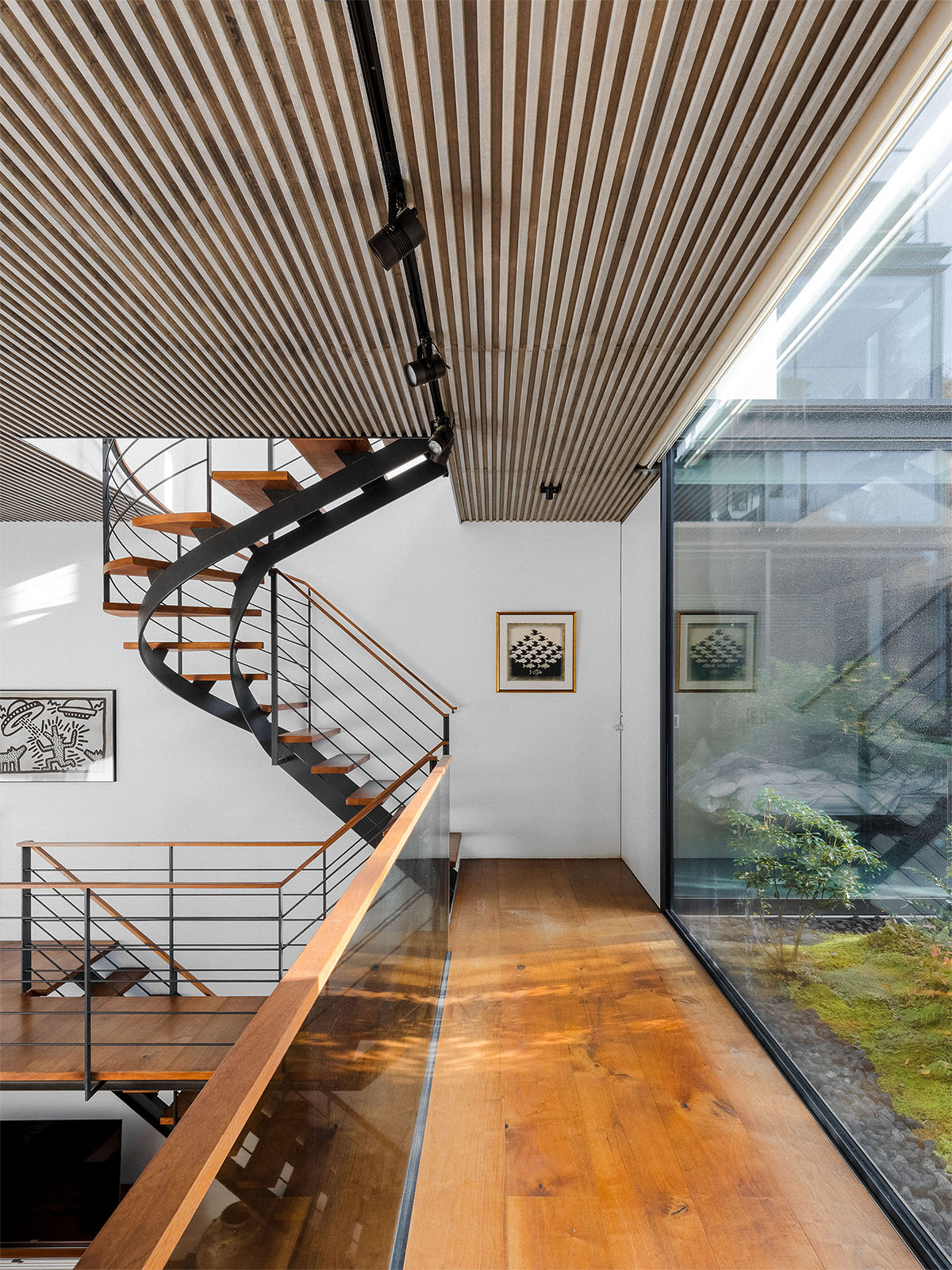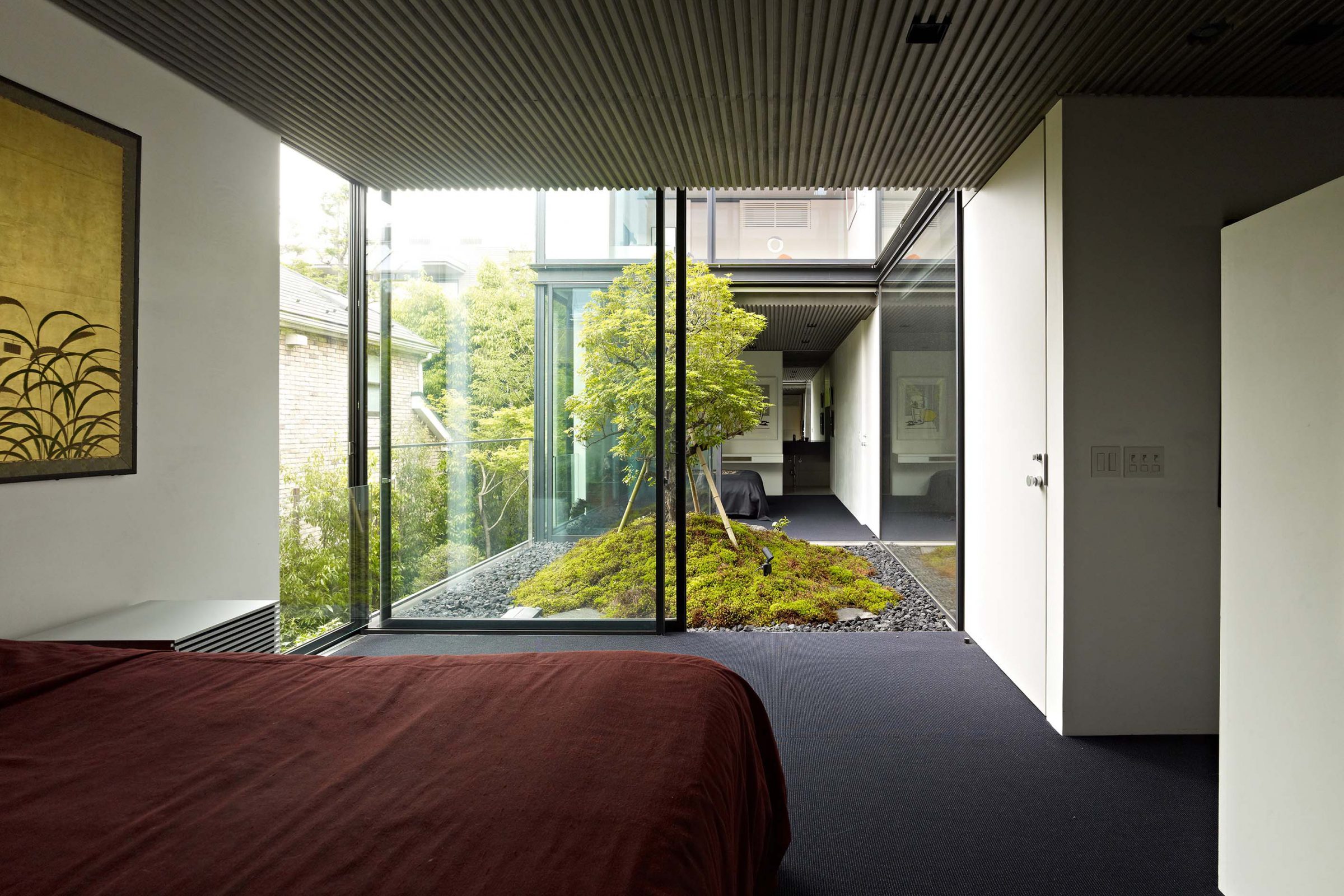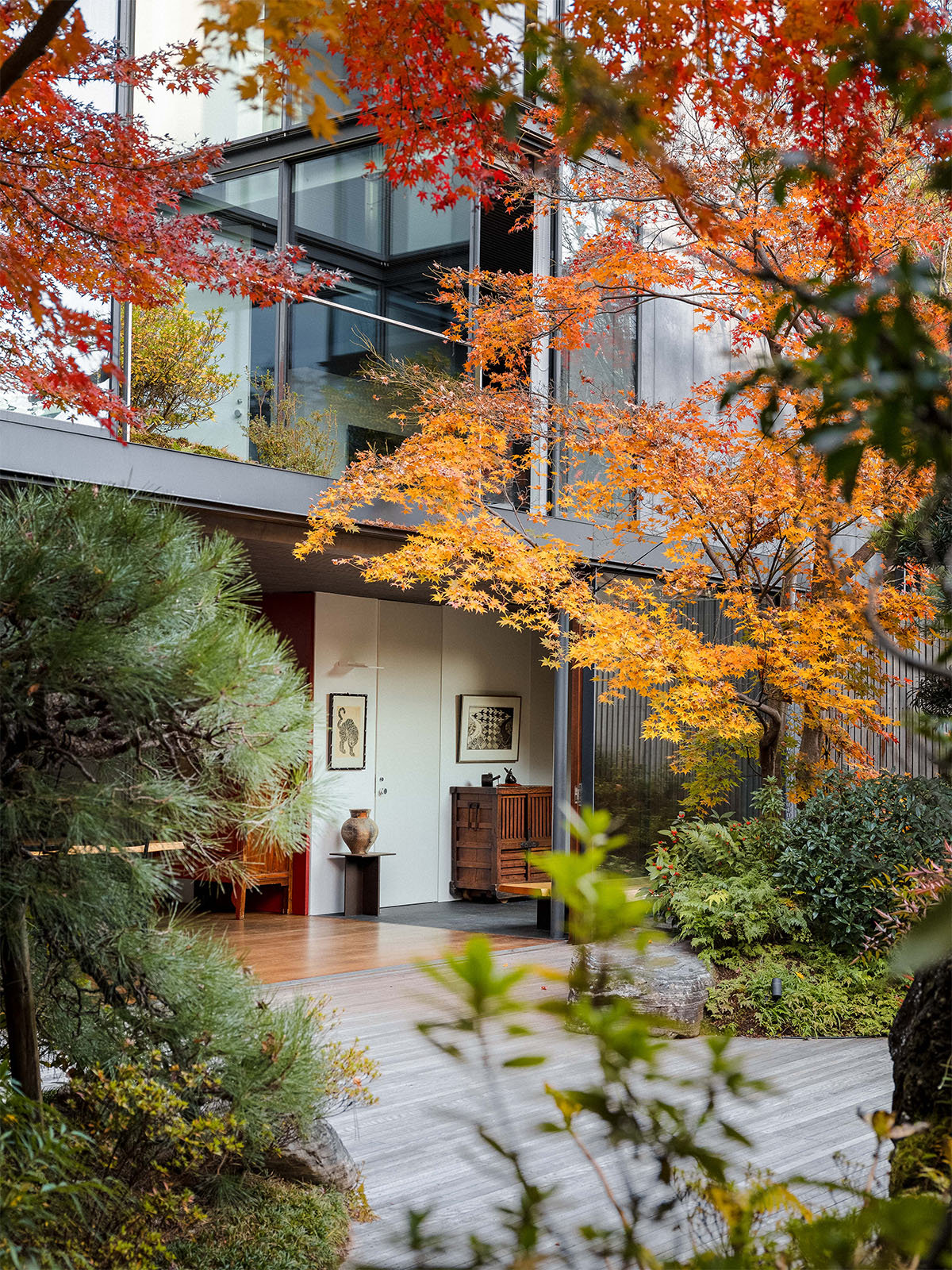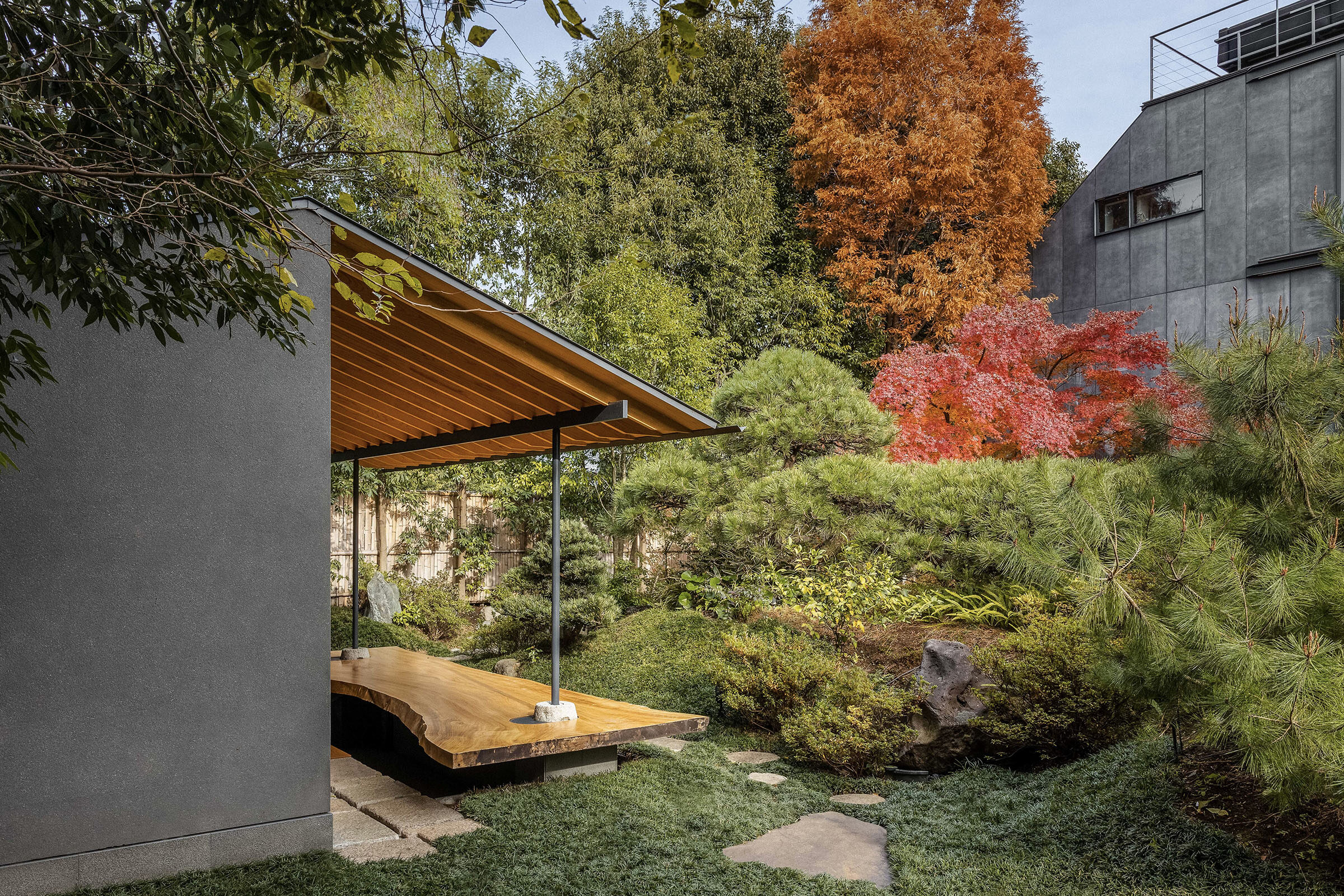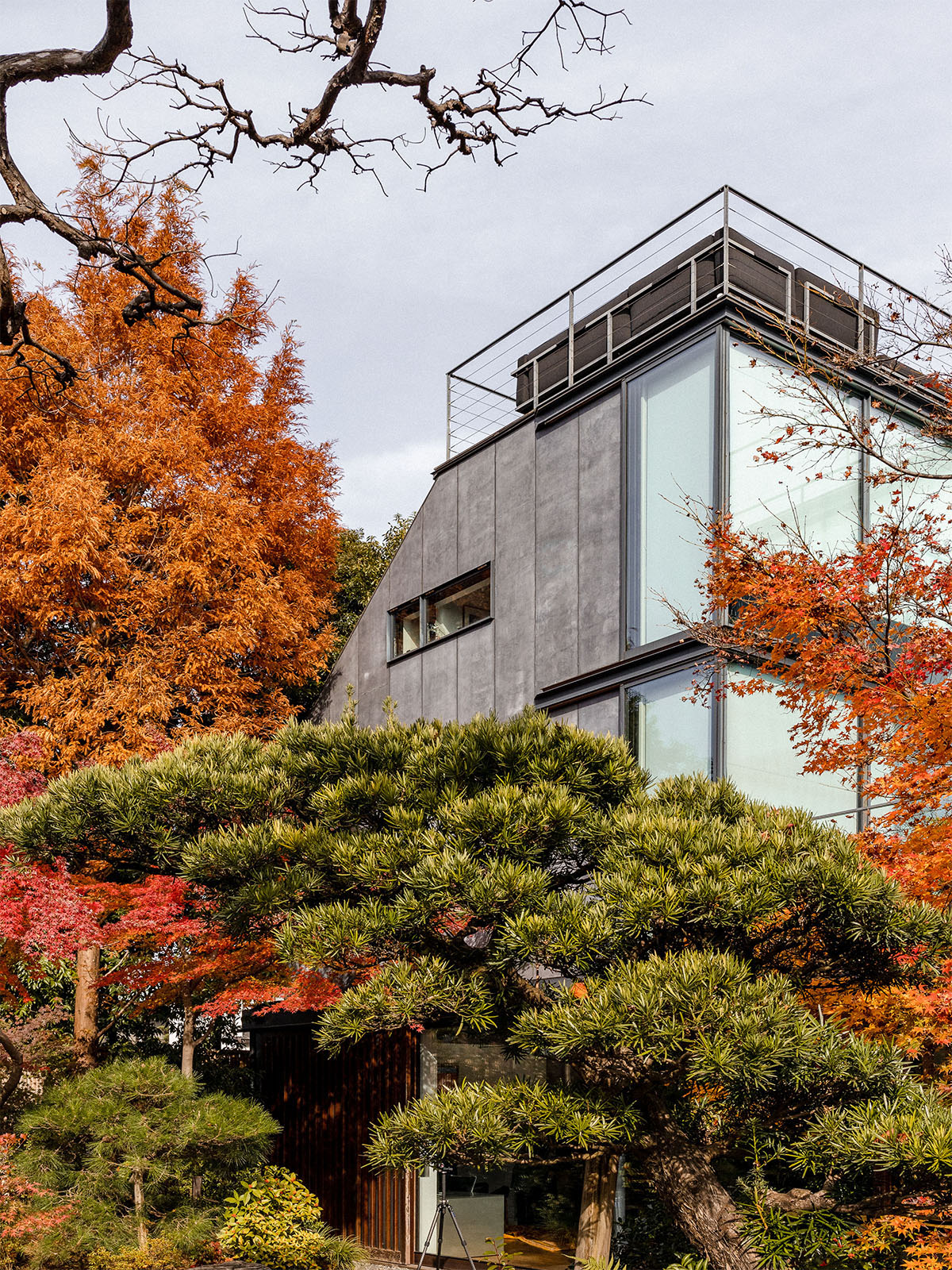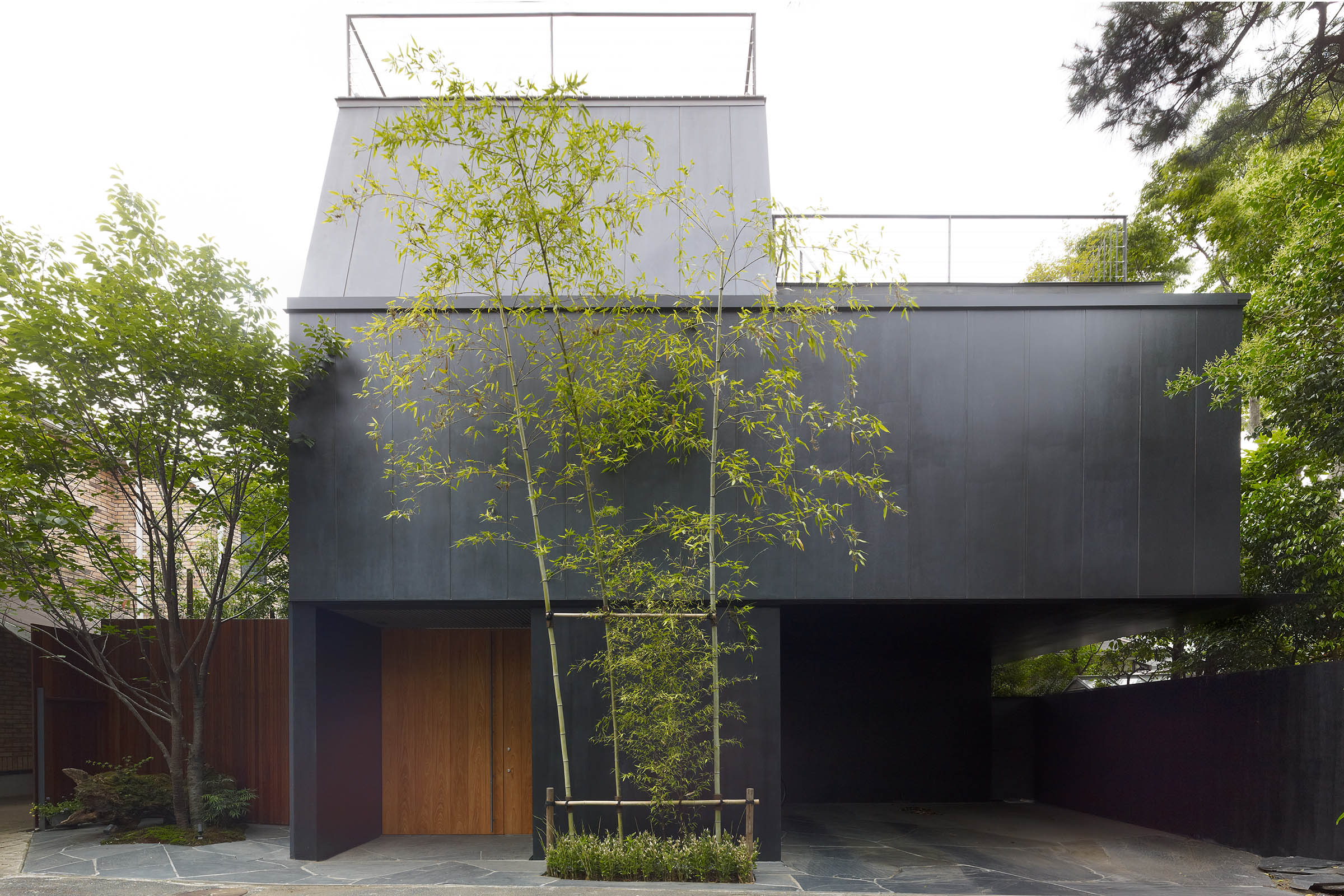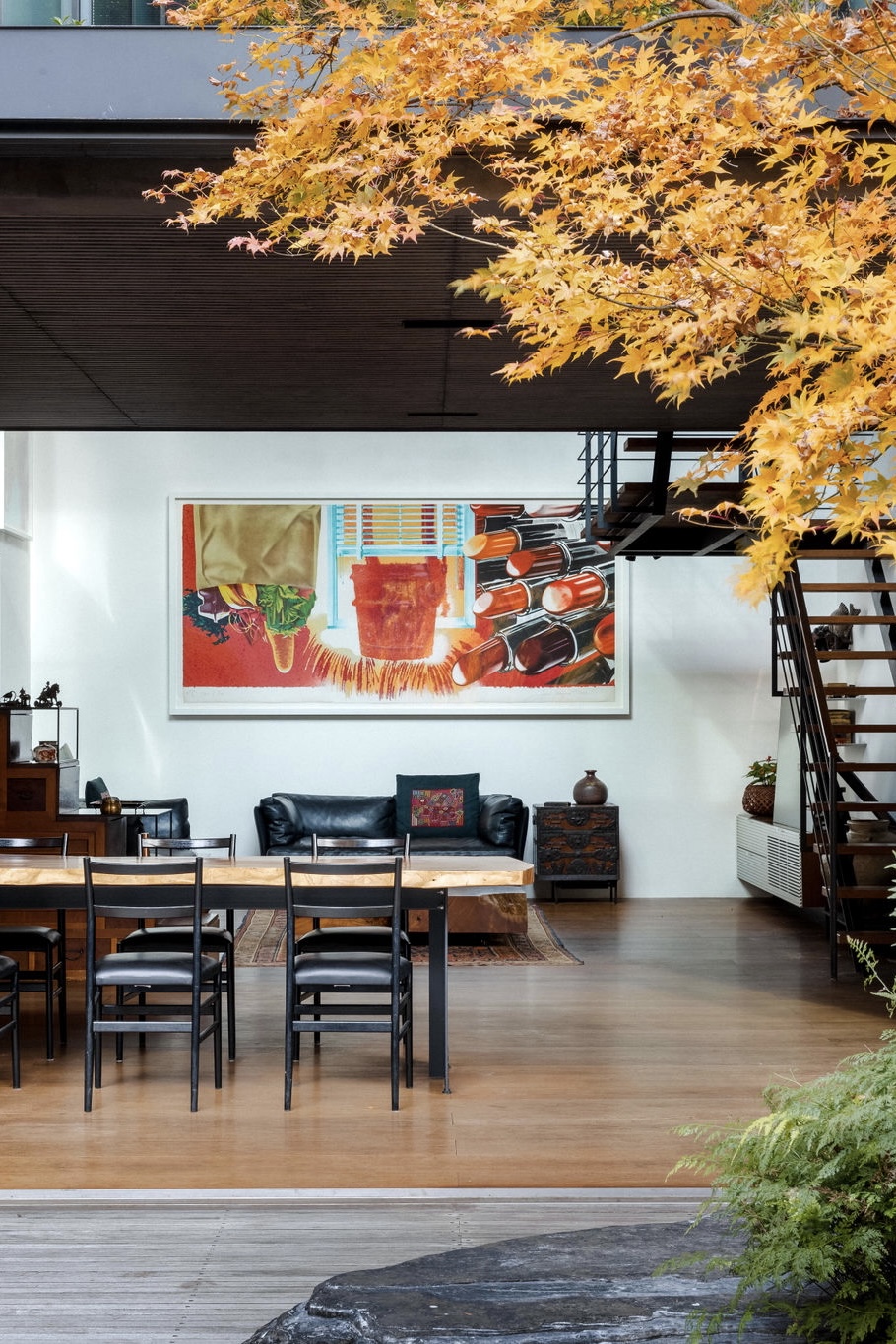 都心にありながら、どこにいても豊かな自然と、クラフトやアートを感じられる家が求められた。
Site: 東京
Architect: 芦沢建築設立事務所
Project architect: 芦沢啓治/本条理恵
Structural engineer: ASA 鈴木啓 
施工: 松本コーポレーション
Photo: Daichi Ano
東京の閑静な住宅街に建つ3 階建てのRC 造住宅である。敷地は都心の屋敷跡ということもあり、周辺には豊かな緑が蓄えられていた。
クライアントはそのエリアに長く住んでおり、その土地の良さも環境も深く理解していたが、借家では叶わなかった所有しているアートや家具などを美しく魅せることや、近隣環境を取り込んだ豊かな家を作ることを望み、プロジェクトがスタートした。
配置計画と建築計画は、そうした豊かな周辺環境を考慮し、外部環境との関係から組み立てている。まず、できるだけ効果的な庭をつくるため、建物は敷地の北東側に寄せ、南西側に細長く庭をとっている。2階にはゲストルームとマスターベッドルームの緩衝地帯として、またリビングへ光を落とすために開放された中庭を設けた。3階は北東側に大きく庭をとり、外部からの目線が切れる程度に生垣を配し、アウトドアバスルームと隣家の緑が借景となるテラスを配置。アウトドアキッチンと一体でつくられた階段を登っていくと、都会の景色と涼風を楽しむためのテラスがあり、外部で使用できるソファを配置した。近隣の植栽による借景を活かしつつ、プライバシーを守りながら建物内外の植栽と一体化し、新たな住環境、そして近隣環境をもつくりだしている。
クライアントが所有する版画や家具を鑑賞できるスペースについても、設計当初から検討した。アートが美しく生活と混ざり合う、あるいはアートがあるべき空間として、特に材料、さまざまな建築的なディテールには細心の注意を払っている。 竣工後、数年が経ちクライアントは西側の隣地を買い増し現在は庭として整備されている。庭の中心に小山を作り、リビングから見えてくる庭の距離感を整え、その奥にガーデンハウスを作っている。庭のみならず10年の間に小さな改修工事を繰り返し進化している。それ故でもあるのだが、10年経っても全く古びることなくいつも心地よい空間で迎えてくれる。
'Although located in the city centre, the desire was to have a home filled with the richness of nature, crafts, and art.'
Site: Tokyo
Architect: Keiji Ashizawa Design
Project architect: Keiji Ashizawa/Rie Honjo
Structural engineer: ASA Kei Suzuki
Photo: Daici Ano
House S is a three-storey reinforced concrete house located in a quiet residential area of Tokyo. The site was once a samurai's residence, and the surrounding vicinity was richly stocked with greenery.
Having lived in the area for many years, the client deeply understood the value of the land and the environment. The project started with the desire to create an attractive home for the client's art and furniture, which they believed could not be achieved in a rented house. Additionally, they wanted to build a home that would be enriched by incorporating the neighbourhood landscape.
Plans for the layout and architecture of the building were developed in response to the external environment whilst considering the richness of the surrounding area. The house was constructed on the northeast side of the site to maximise the garden's potential, giving space for a long, narrow garden to be planted on the southwest side. The second floor has an open courtyard as a transitional space between the guest room and master bedroom to allow light into the living room. The third floor features an outdoor bathroom, a terrace with views of the neighbouring greenery, and a large garden on the northeast side, with a hedge to break the line of sight from outside. A staircase built as an integral part of the outdoor kitchen leads up to the terrace for enjoying city views and cool breezes and is furnished with outdoor sofas. The house takes advantage of the surrounding landscape by utilising neighbouring planting. Plants are also integrated inside and outside the building, ensuring privacy and creating a new living and neighbourhood environment.
Space to appreciate the client's prints and furniture was also considered from the beginning of the design process. Particular attention is paid to materials and various architectural details, as art integrates beautifully with everyday life, creating a space where art should reside. A few years after the house was complete, the client bought an adjoining plot of land on the west side of the property, which is now maintained as a garden. A small hill was built in the centre of the garden to create a sense of distance between the garden visible from the living room and the Garden House behind it. The house has evolved over the past ten years due to several small renovation projects, including the garden. Because of this, the space has remained welcoming and comfortable over time without feeling outdated.