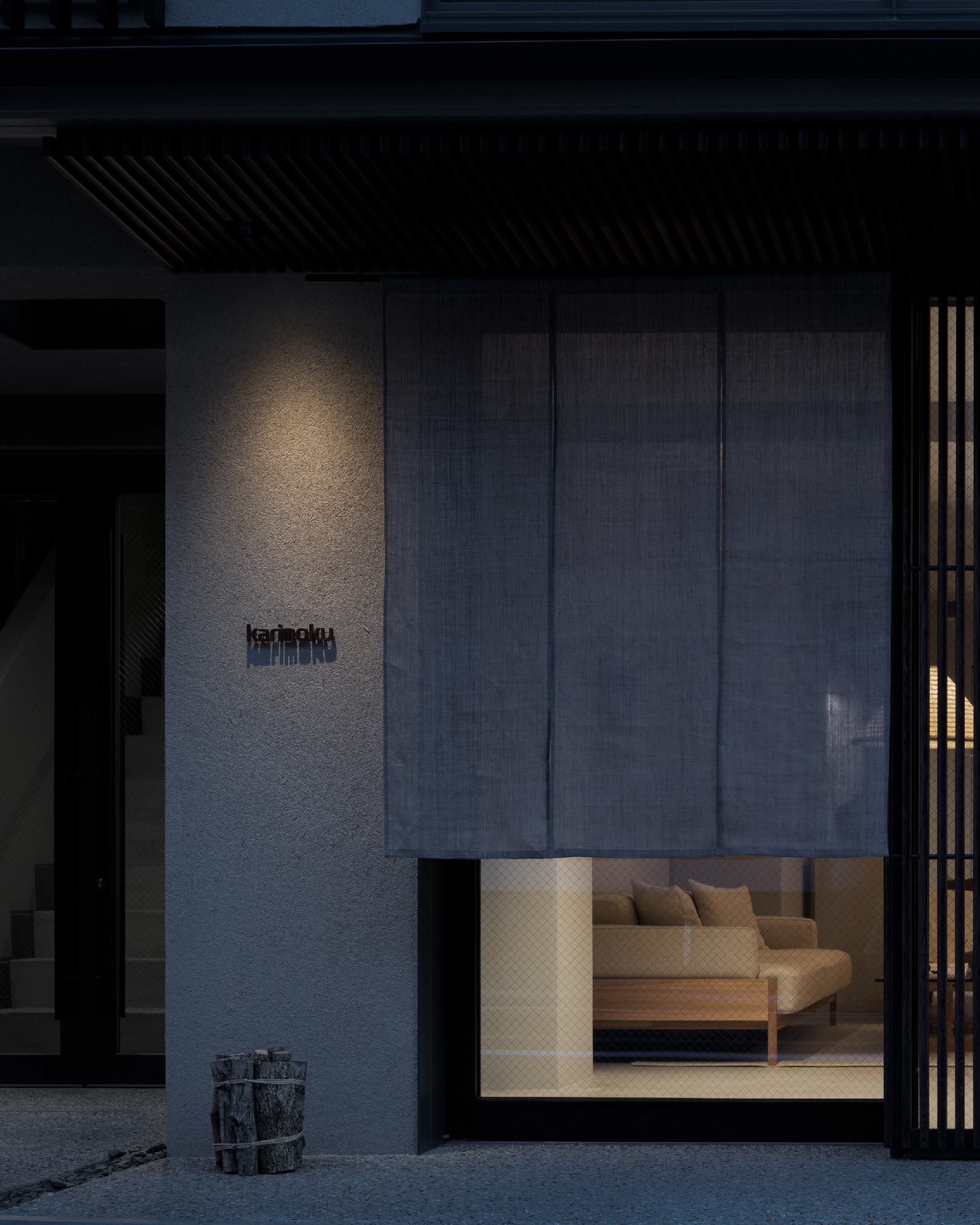 Karimoku Commons Kyoto
Site: Kyoto
Architect: Keiji Ashizawa Design
Project architect: Keiji Ashizawa / Rie Honjo
Construction: 51Action / KOUEI
Furniture: Karimoku / KARIMOKU CASE STUDY
Photo: Tomooki Kengaku
Karimoku Commons Kyoto is located on Aneyakoji Dori, a historically preserved street that connects the east and west sides of Kyoto. The first and second floors are showrooms for Karimoku Case Study, and the third floor is a library space that displays selected items from the Karimoku New Standard and other collections. And this is the second location following Karimoku Commons Tokyo, which was created two years ago.
The building was originally an old row house that was demolished to make way for a new concrete structure. We were fortunate to be able to participate in the design of not only the interior but also the exterior during the construction process, which allowed us to design the windows and other parts of the facade with precision and in accordance with the architecture.
Most of the inspiration for the Karimoku Commons Kyoto space comes from my own experiences in Kyoto. For about 10 years now, I have been spending a significant amount of time in Kyoto and have continued to be fascinated by the city that I am still discovering. The gardens, the temples, the izakaya (Japanese-style pubs) are all wonderful, but the city itself is truly delightful to walk around. Inspired by all these aspects, I wondered if it would be possible to make Karimoku Commons Kyoto a space that would not feel out of place in Kyoto, but would still have the modern residential setting.
The entrance is finished with wooden louvers that evoke the characteristics of a traditional Kyoto machiya, such as the eaves and latticework. The furniture-like details on the edges of the louvers are designed to create an inviting impression for the visitors. The shoji screens that can be seen through the glass on the second and third floors, provide privacy to the neighboring residences whilst bringing gentle light into the interior, as well as balancing the appearance of the exterior building. In Kyoto, the noren (a traditional Japanese blind curtain) is a beautiful detail that connects the city, and is also used in Karimoku Commons Kyoto to convey that the space is a showroom, while at the same time providing a glimpse into the interior design. Seen through the noren, the first floor embodies the earthen floor space of a machiya, displaying light oak furniture on a concrete floor. In contrast, the second floor is set with oak furniture and flooring materials stained in dark tones, picturing the living space of a machiya.
The styling, fragrance, and music are thoughtfully selected for the space, inspired by Kyoto and in collaboration with people associated in the local area. With the comprehensive approach taken by each professional, the sensual quality of the space is elevated through all five senses. Despite its small footprint, we hope that visitors, not only fans of furniture and Karimoku, but also as many people as possible from all over the world will come to experience the space - similarly to enjoying a garden or a temple.