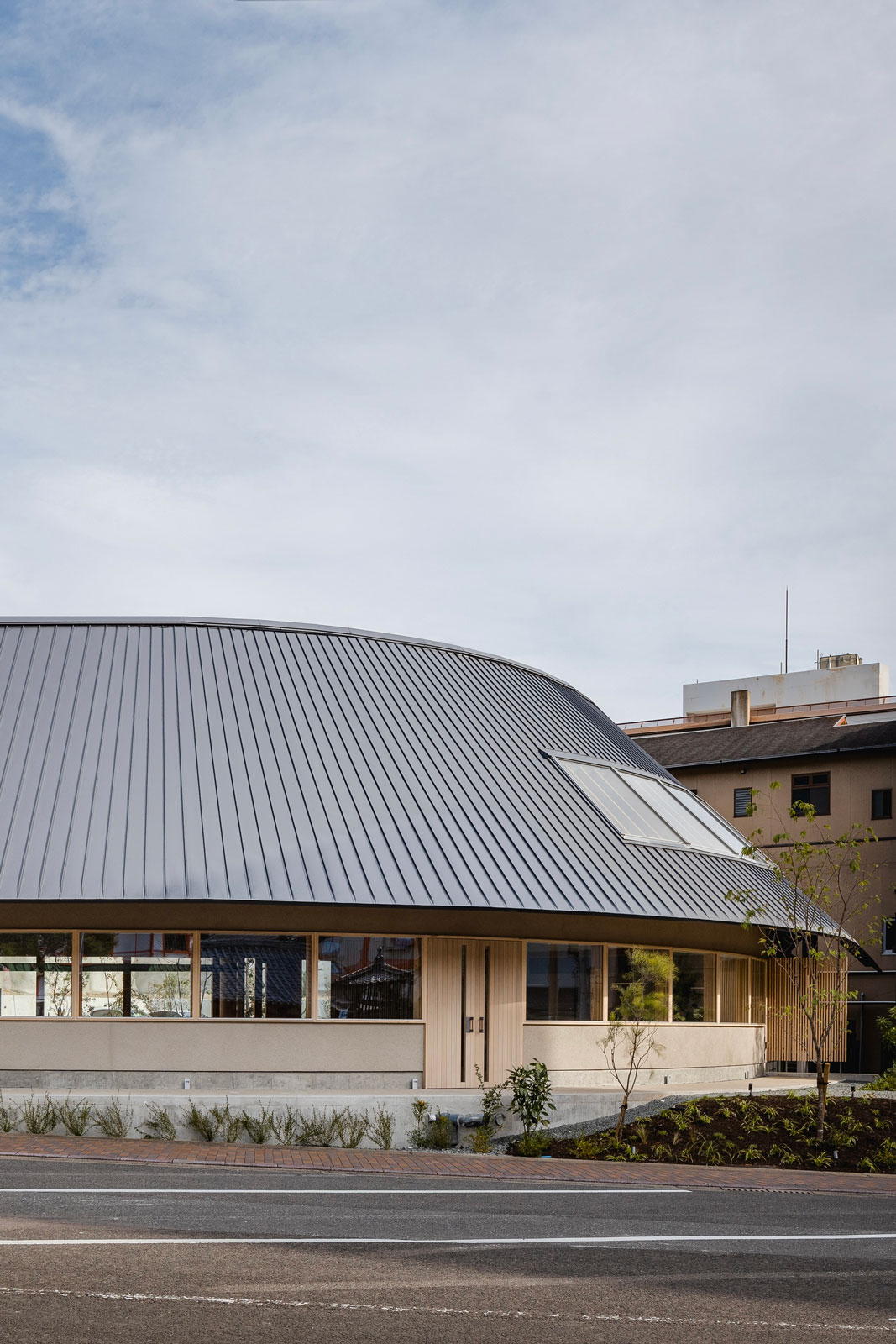 Saga Hirakawaya Tofu Takeo Onsen
Site: 佐賀県
Architect: 芦沢啓治建築設計事務所
Project architect: 芦沢啓治/山口健太郎/古市翼
施工: 上山建設
家具: 平田椅子製作所/ レグナテック
Photo: Ben Richards
佐嘉平川屋武雄温泉本店
佐嘉平川屋のフラグッシップは、佐賀県の老舗の温泉街である武雄温泉、楼門前に位置するショップ兼レストランである。
クライアントは既に2つのレストランを運営していたが、武雄温泉という生まれ育った地域で今回の敷地と出会い、以前のような賑わいがなくなり少しばかり寂しさを感じるようになってしまっていたこの地域の活性化に貢献できるのではないかという期待を持ち出店することになった。
建築としては、楼門や周辺環境と呼応するように、木造でかつ平家の建築物として見えるように計画し、柔らかく弧を描いた外観となっている。このカーブは楼門側においては、一体的な環境を作ると共に開放的で豊かなアプローチ空間を生み出し、内側には建築とランドスケープによって中庭を作っている。中庭には温泉の足湯を設け、ショップで買った商品を持ち、長く滞在してもらう仕掛けとなっている。
インテリアとしては、豆腐文化を発信していくショップと、ゆったりと料理を楽しめる居心地の良いレストランで構成されているが、2つの空間が柔らかくカーブさせたボリュームと、開放的な吹き抜けによってゆるやかにつなげている。
内部空間の光はダイナミックである。楼門を見るために開けた窓からの強い光は時間によって空間をドラマチックに変え、換気も兼ねた天窓からは、やわらなかな天井のラインや壁面に、美しい光のグラデーションを作り出す。また1階と2階、さらには2階の3つの部屋は同じディテールや素材を使いつつも、光のトーンを変えることで、空間の変化と共に食事を楽しめるように考えている。
また地域のブランドを積極的に取り入れており、家具は全て佐賀県諸富にある、弊社も家具のデザインを手掛けているAriakeによるものである。客席の特注のペンダントランプのシェードは佐賀市の名尾手すき和紙によって作られている。和紙を通した光は豆腐の鍋を柔らかく照らし、また反射した光はドーム状になった天井に光を送り込んでいる。
豆腐屋が自ら豆腐文化を発信し、地域の活性化も追求していく拠点というとても挑戦的なプロジェクトとなったわけだが、時を経てよりこの地域に馴染み、武雄温泉の新たなシンボルとなるような建築、そして環境となることを期待している。
Site: Saga Prefecture
Architect: Keiji Ashizawa Design
Project architect: Keiji Ashizawa / Kentaro Yamaguchi
Furniture: Hirata Chair / Legnatec
Construction: Kamiyama Kensetsu (Nagasaki)
Photo: Ben Richards
The flagship store of Saga Hirakawaya is a shop and restaurant located in front of the historical tower gate of Takeo Onsen, a long-established hot spring resort in Saga prefecture. Priorly the client had already been operating two restaurants, but when they came across this specific site in Takeo Onsen where they were born and raised, they decided to open a new restaurant in the hope that it would contribute to the revitalization of the local area, which had lost its former liveliness and been unpopulated.
The building was designed to appear as a wooden house structure with a gently arched exterior, which was developed in harmony with the surrounding environment and the adjacent tower gate. The curved building creates a unified environment and an open and rich space leading to the gate, with a courtyard created on the inside by the architecture and landscape. A foot bath with hot spring water is located in the courtyard to encourage visitors to eat right outside and stay for a longer period of time.
The interior consists of a retail store that promotes the tofu culture and a cozy restaurant where visitors can sit down to enjoy the cuisine. The two spaces are loosely connected by the gentle curvatures of the volumes, along with an open atrium.
The light in the interior space is dynamic. The daylight shining through the windows that open to view the gate dramatically changes the feel of the space depending on the time of day, with the atrium skylight, which also serves as ventilation, creating a beautiful gradation of light on the soft curves of the ceiling and walls. In addition, the first and second floors, and the other three rooms on the second floor, share the same details and materials yet appear to be different with the changing tones of the lighting - where customers are able to enjoy the meal together with the change of space.
The custom-made pendant lamps above the tables use washi shades crafted by Nao Washi, a Saga-based Japanese paper manufacturer. The light through the washi softly illuminates the tofu pots, while reflecting light into the domed ceiling. All of the furniture is made by Ariake, a brand that produces in Morodomi, Saga Prefecture, who we have also designed products for.
This was a challenging project with the intent for the tofu store to promote tofu culture by themselves as a means to revitalize the local community. We hope that over time, this architecture and environment will become more familiar to the community and become a new symbol of Takeo Onsen.