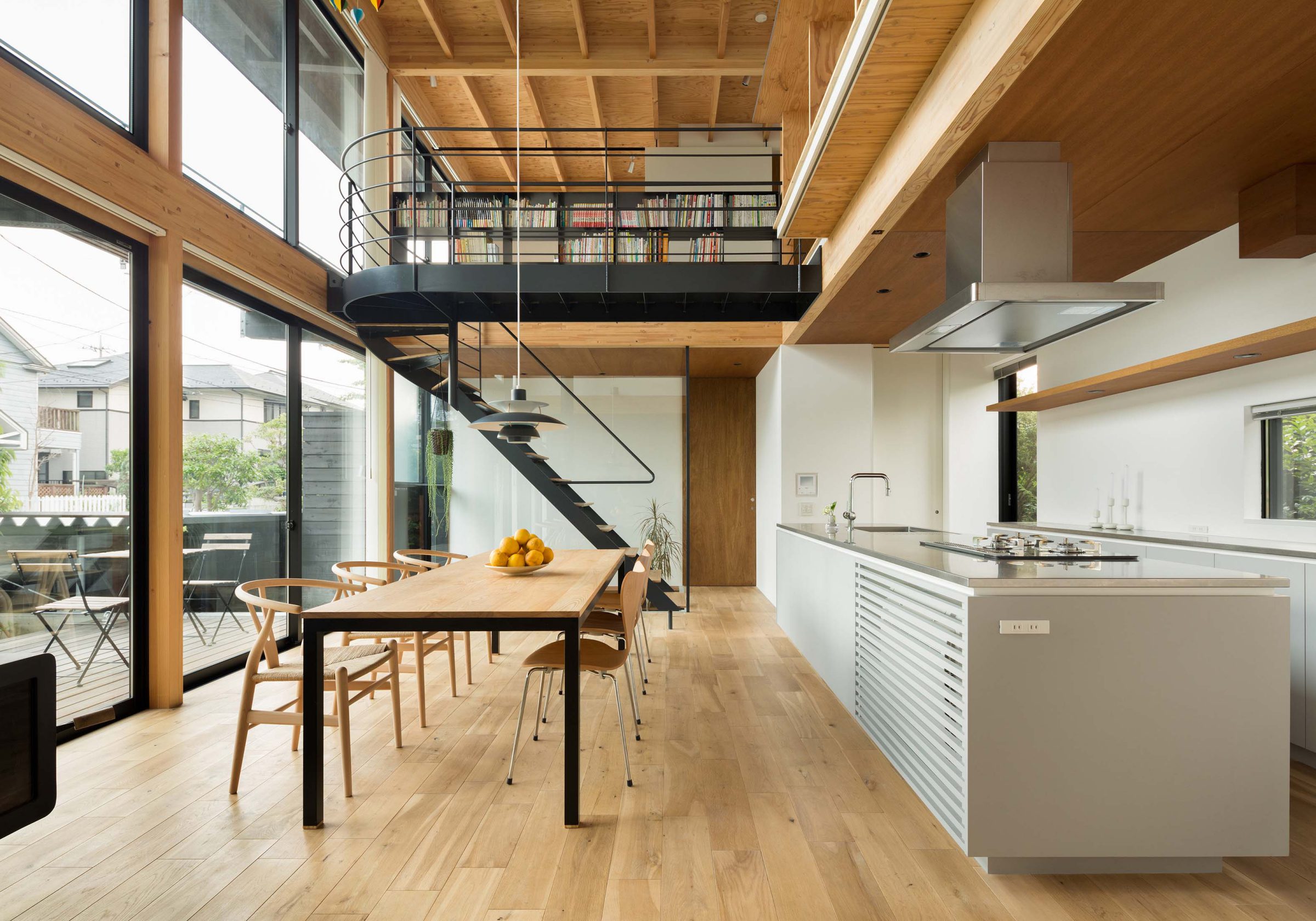 Site: 東京
Architect: 芦沢建築設立事務所
Project architect: 芦沢啓治/中村俊哉
Structural engineer: ASD 田畠隆志
施工: 幹建設
Photo: 太田拓実
梨の産地としても知られる東京稲城に建つ夫婦と子供一人のための専用住宅。ゆったりとした緑豊かな敷地に計画された。クライアントの要望は極めてシンプルだった。よって我々の提案も敷地条件を活かすことにフォーカスすることができた。
まず北側の境界を背に東西に長く建築を配置し、庭側に大きな開口部を設け光が降り注ぐ開放的な空間を実現させた。2階の連続したテラスは回遊性を確保するとともに1階への日射遮蔽の役割を果たしている。また豊かな庭と建築をつなげる役割も担っている。

平面計画は段差のある敷地を建築の内部まで引き込むと同時にコンクリートの土留めを駐車場からのアプローチ空間へと貫入させシンプルなプランの中に空間の豊かさを持たせ、内外部を繋げることを考えた。また現代の木造住宅の構造が持つ独特な設えをそのまま表し、鉄骨階段、鉄の本棚、特注で作られた鉄の薪ストーブなどのエレメントを相対するものとしてぶつけている。
これらのデティールや内外部の関係を丁寧に設計することで適度な緊張感をもちつつも、心地よい住空間が出来たのではないかと思っている。
Site: Tokyo
Architect: Keiji Ashizawa Design
Project architect: Keiji Ashizawa / Toshiya Nakamura
Photo: Takumi Ota
The site is located in Inagi, Tokyo. This area is famous for its production of Japanese pears, and the site is surrounded by many trees.
The house is designed for a couple and a child, and as the client's request was fairly simple, we were able to focus on making the most of the site conditions. The building is arranged in the direction of east and west and backed by a northern border. The large opening to the south is designed to make the interior open and let in plenty of light.
On the second floor, the continuous terrace creates a flow of movement and prevents daylight from entering directly into the first-floor spaces. It also connects the garden with the house. In floor planning, the difference in the surrounding ground level is considered a part of the interior, and the concrete sheathing continues from the car park to the entrance. This feature enriches the simple plan of the building by connecting the inside with the outside.
The unique arrangements of the structure of this modern wooden house are exposed by the components of the steel stairs, steel bookshelf and steel wood‐burning stove. By carefully designing details and putting inside and outside in harmony, a comfortable living space is created with a moderate feeling of tension.